Dissolution
by C.J. Sansom
Reviewed by Margaret Donsbach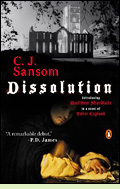 Dissolution, the first of the Matthew Shardlake mysteries, is set in 1537, shortly after the death of Henry VIII's third wife, Jane Seymour. Inevitably, the mourning for Queen Jane recalls the more complicated affair of Anne Boleyn's death, in which the fictional Matthew Shardlake's boss, the historical Thomas Cromwell, was deeply involved. Meanwhile, the dissolution of England's monasteries, set in motion by events surrounding Henry's marriage to Anne, proceeds apace.
The monasteries were not dissolved all at once. The king's first efforts at suppressing monasteries set off an uprising of dangerous strength. He and Cromwell moved more carefully after that, forcibly dissolving monasteries only where a strong case could be made for moral laxity and disobedience to the Crown amounting to treason. Instead, abbots and monastic administrators were encouraged to agree to voluntary dissolution. In the novel, one of Cromwell's agents has been murdered while carrying out a visitation of a monastery. He had been looking for evidence of misbehavior that would allow him to "encourage" the monks more persuasively. Shardlake's mission is to find out who murdered the agent and obtain the abbot's agreement to a dissolution.
Shardlake's misshapen back pains him both physically and emotionally. As a child, he was educated in a monastery where he learned first-hand that monks are not necessarily compassionate, godly men. He is, therefore, a whole-hearted believer in the reforms Cromwell is carrying out. But his strong moral sensibilities and keen intelligence introduce doubts about Cromwell's work and his own role in it, doubts which threaten to give him as much pain as his bent back.
The thoughtful literary depth of this novel does not displace the mystery, a genuine puzzler whose solution is both credible and surprising. The mystery turns on the characters of the various suspects, all at the center of the monastery's work and all, sympathetic or otherwise, portrayed as deeply human individuals. (2003; 390 pages, including a Historical Note)
More about Dissolution at Powell's Books or Amazon.com
For other novels in the Shardlake series, see the mystery section on the Renaissance page.

Other novels about Thomas Cromwell and the suppression of the monasteries:
Wolf Hall by Hilary Mantel (2009), a more sympathetic but no less complex view of Cromwell and the beginnings of the Church of England. Review or more info at Powell's Books
The Old Priory by Norah Lofts (1981), a family saga beginning in 1590 when a young sailor acquires the ruins of an old priory despite local legends that say it was cursed when King Henry VIII turned out the monks. More info
The Man on a Donkey by H.F.M. Prescott (1952), about the 1536 rebellion set off by Henry's first, most forceful efforts to dissolve England's monasteries. More info

Nonfiction about Thomas Cromwell and the suppression of the monasteries:
The Religious Orders in England: The Tudor Age by David Knowles (1959). More info
Reform and Renewal: Thomas Cromwell and the Common Weal by Geoffrey R. Elton (1973). More info
Thomas Cromwell: The Rise and Fall of Henry VIII's Most Notorious Minister by Robert Hutchinson (2009). More info

Online:
The Dissolution of the Monasteries at the Britain Express website



Back to Novels of the Renaissance

Back to Directory of Book Reviews