Dictator
by Robert Harris

Reviewed by Margaret Tomlinson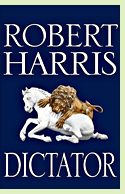 Dictator completes the Cicero trilogy, bringing the story of this remarkable Roman statesman to a close with the last fifteen years of his life. These were years when Rome began its shift from a republic to a dictatorship, Cicero was exiled by men who feared his oratorical skill, he negotiated his way back by treading a careful path between appeasing powerful men like Julius Caesar and standing up for his republican principles.
As in the previous novels in the trilogy, Imperium and Conspirata, Dictator takes the form of a biography written by Cicero's slave and confidential secretary, Tiro. Little is definitely known about Tiro, who seems to have been highly intelligent, who probably invented a form of shorthand writing that continued to be taught and used by medieval monks for 600 years after his death, and who certainly wrote a number of books, including a four-volume biography of Cicero, that sadly are now lost. It's perhaps surprising that no author before Harris succumbed to an irresistible temptation to recreate that lost biography of Cicero, but we are fortunate that Harris has.
Dictator portrays a complex man of great character who was forced, again and again, to compromise his values and ideals in order to survive and try to maintain enough influence over Roman politics to preserve Rome as a republic. Though he failed, it is due in great part to Cicero that the United States Constitution provided for a republican form of government and contained checks and balances guarding against the drift to dictatorship that occurred in Rome. The story is tense and suspenseful, and would be well worth reading even if it were not as strongly relevant to modern politics as it is. (2015, 385 pages including a Glossary and an Acknowledgments section listing historical sources)
More about Dictator at Powell's Books
or
Amazon.com
Other novels about Cicero:
Imperium
by Robert Harris (2006), about Cicero's rise to political power in ancient Rome; #1 in the Cicero trilogy. See
review
or
more info at Powell's Books
The Lock
by Benita Kane Jaro (2002), about Cicero and the events that led to the downfall of the Roman Republic; #2 in the Key trilogy.
More info
Catilina's Riddle
by Steven Saylor (1993), about a Roman citizen reluctantly drawn back into the city's intrigues when Cicero asks him to find out more about Cicero's rival Catilina; #3 in the Roma Sub Rosa mystery series.
More info
Nonfiction about Cicero:
Cicero: the Life and Times of Rome's Greatest Politician
by Anthony Everitt (2003).
More info
Cicero, Selected Works
(edited by Michael Grant, 1960).
More info
Online:
Cicero
at Wikipedia
Back to Novels of Ancient History
Back to Directory of Book Reviews