The Devil's Queen
by Jeanne Kalogridis
Reviewed by Margaret Donsbach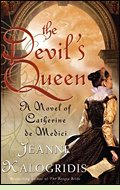 The Devil's Queen is about the infamous Catherine de Medici, who became Queen of France in 1547 when her husband, Henri II, succeeded to the throne. She held varying degrees of influence during the reigns of three of her sons. It's known that she employed an astrologer, Cosimo Ruggieri, and consulted the seer Nostradamus. Historians disagree over the extent of her responsibility for the assassinations of Huguenot leaders which set off the St. Bartholomew's Day Massacre. Enlarging on the facts of Catherine's life, Kalogridis spins a tale with a darkly supernatural deed at its heart.
The first quarter of the novel musters sympathy for Catherine by imagining her childhood in extensive detail: the tumult in Florence during the war between supporters and opponents of the Medici, her mistreatment in a convent, and her use as a political pawn in the European marriage market. Young Ruggieri is introduced early as her secret protector, as sinister as he is reassuring. Catherine, who has horrifying dreams she believes are prophetic, begins to study astrology on her own and finds it offers little comfort. "Mars, hot red warrior, was conjunct Saturn, harbinger of death and destruction, and passing through my ascendant - Leo, the marker of royalty. . . . And Saturn, silent and dark, had sailed into my Eighth House, the House of Death."
Married at fourteen, Catherine quickly falls in love with Prince Henri, despite his coolness to her and his attachment to his deportment tutor, Diane de Poitiers. But when Catherine's womb stubbornly refuses to quicken, she resorts to magic of a particularly dark sort. Later, Nostradamus says ominously, "These children should not be."
Though not fast-paced, the novel is punctuated by sensational scenes and dramatically symbolic passages. Liquids, from wine to water to tears, typically bleed rather than drip or pour. The Devil's Queen is for those who enjoy a romanticized story of glittering but dangerous court life, laced with a recurring frisson of horror. (2010; 470 pages, including an Afterword about the history behind the story)
More about The Devil's Queen at Powell's Books or Amazon.com

Other novels about Catherine de Medici:
The Confessions of Catherine de Medici by C.W. Gortner (2010), a more briskly paced novel that emphasizes psychological and political realism. See review or More info at Powell's Books
The Master of All Desires by Judith Merkle Riley (1999), about the Catherine de Medici and Nostradamus. More info
The Stars Dispose by Michaela Roessner (1997), historical fantasy about a young chef and an astrologer in the childhood household of Catherine de Medici. More info

Nonfiction about Renaissance astrology and astrologers:
The Unknown Nostradamus by Peter LeMesurier (2003). More info
Cardano's Cosmos: The Worlds and Works of a Renaissance Astrologer: by Anthony Grafton (2000). More info
The Planets Within: The Astrological Psychology of Marsilio Ficino by Thomas Moore (1982, revised 1990). More info

At the Movies:
Queen Margot
, the 1994 movie from French director Patrice Chereau, starring Isabelle Adjani as Catherine de Medici's daughter Margot, based on the novel Queen Margot by Alexandre Dumas père; the characters and events are portrayed quite differently than in The Devil's Queen, but the tone of high drama is similar.

Online:
Nostradamus at the Skeptic's Dictionary
Nostradamus at Sacred-Texts.com



Back to Novels of the Renaissance

Back to Directory of Book Reviews