Devil's Dream
by Madison Smartt Bell
Reviewed by Margaret Donsbach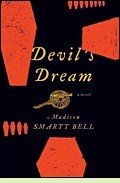 Devil's Dream is about Nathan Bedford Forrest, the Tennessean whose sheer fighting genius raised him from private to general in the Confederate Army. A slave trader and real estate speculator before the war, he was in most ways the opposite of the gentlemanly Robert E. Lee. Born into poverty, he had no formal military training and no battlefield experience before the war – though he had killed two men who murdered his uncle.
Fiercely intelligent, quick-tempered, plain-spoken to the point of rudeness, generous, courageous and marked by a wide streak of stubborn integrity, Forrest is as much a novelist's dream as a devil's, a larger-than-life personality no less admirable than he is deplorable. Devil's Dream seems to conjure the presence of the man himself, partly through the medium of a patchily clairvoyant black wanderer of uncertain heritage whose path crosses that of Forrest's recruiting party in the summer of 1861. (Black men did serve in Confederate regiments. Forrest offered to free at war's end any of his slaves who would serve under his command as teamsters. Forty-five did.) Pressed for his own story and told "Ain't but one right way to tell a story," Henri responds, "I'll tell it backward then."
Devil's Dream proceeds both backward and forward, beginning in 1861 and taking frequent dips into the prewar years. Time and again, the story circles back to key events, like the Fort Pillow Massacre or Forrest's dealings with a beautiful slave woman, gaining depth each time. Forrest woos his wife-to-be with a story about his mother and a wildcat. "My mother rode ten miles, one day, for a basket of chicks to start us a flock.... The painter is a witchy creature.... Hit smells the blood inside the feathers.... Hit torn off her dress and left stripes on her back like she had been whupped.... My mother was right satisfied with what she done. She brought them chicks safe inside the house." (2009, 328 pages, including an appendix with a chronology of Forrest's life)
More about Devil's Dream at Powell's Books or Amazon.com
Interview with author Madison Smartt Bell
Devil's Dream is on my "Best Historical Novels I Read in 2009" list.

Other novels about Civil War generals:
The March by E.L. Doctorow (2005), about General Sherman and his march of destruction through the South. More info
Gettysburg by Newt Gingrich and William Forstchen (2003), alternative history about what might have happened had General Lee used a different strategy at Gettysburg. More info
The Killer Angels by Michael Shaara (1974), about the Battle of Gettysburg. More info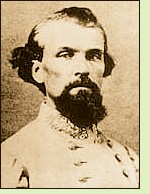 Nonfiction about Nathan Bedford Forrest:
Nathan Bedford Forrest: A Biography by Jack Hurst (1994); see pages 261-262 for information about the astonishing number of horses shot out from under Forrest during the Civil War. More info
Bedford Forrest and His Critter Company by Andrew Nelson Lytle (1931; reprinted 2002).
More info
A Battle from the Start: The Life of Nathan Bedford Forrest by Brian Steel Wills (1992).
More info

Online:
New York Times Obituary of Nathan Bedford Forrest, October 30, 1877
"Forrest and His Campaigns" by James R. Chalmers, who served under his command



Back to Novels of 19th Century America

Back to Directory of Book Reviews