Devil's Cub
by Georgette Heyer
Reviewed by Margaret Donsbach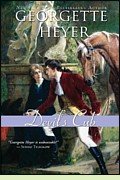 The "Devil's Cub" is Dominic Alistair, Marquis of Vidal, the son of the notorious Duke of Avon and his saucy French wife (who fell in love in These Old Shades). Dashingly handsome, Dominic is heir to his father's self-indulgent nature and his mother's fiery temper. He has been romancing a girl of modest means whom he has not the slightest intention of marrying.
Desperate to prevent her sister from being debauched, the usually sensible Mary Challoner sets in motion a risky scheme with the potential to destroy her own reputation. "She would need to act a part, a loathsome part, but if she could do it it would end the Marquis's passion for Sophia as nothing else could." As humorous as it is romantic, Devil's Cub builds to a merry madness of misunderstandings that threaten the hopes of hero, heroine and assorted friends and relatives before all is happily resolved.
The novel's language reflects the period. Dominic is referred to as "the Marquis," "Vidal," "Alistair," or "Dominic," depending on the speaker's relationship to him. Confusion is minimized, however, because Dominic's vivid personality makes it unlikely the various names could refer to more than one such appallingly reckless yet attractive individual. Period details like wigs, face patches, coaches, gaming slang and aristocratic manners are used for comic effect and cunning plot twists.
Heyer is known for her Regency romances, but her early novels like Devil's Cub, were set in the mid- to late-eighteenth-century Georgian period. The pleasure-loving Georgian noblemen are a more dangerous, devil-may-care bunch than those of the Regency period, gambling large sums, quick to propose a duel, ever eager to whisk a beauty of the common classes off to the Continent for a bit of licentious folly. The ladies, meanwhile, must remain vigilant against the danger of being "ruined," rendered unmarriageable by being known to have lingered overlong and unchaperoned in an unrelated man's company. (1932; new Sourcebooks edition 2009, 310 pages)
More about Devil's Cub at Powell's Books or Amazon.com
Interview with Mary Fahnestock-Thomas, editor of Georgette Heyer: A Critical Retrospective

Other Georgette Heyer romances connected to Devil's Cub:
The Black Moth (1921), the author's first novel; about a disgraced earl who falls in love with a respectable young woman after rescuing her from the notorious "Black Moth." Review or More info at Powell's Books
These Old Shades (1926), a reworking of The Black Moth using the same characters (destined to become Dominic's parents) in a new story.
More info
Regency Buck (1935), about two young women who, after their father's death, are chagrined to discover they have been made wards of a man not much older than they are. More info
An Infamous Army (1937), about a beautiful young widow (Dominic's granddaughter) whose behavior leaves much to be desired amid the social whirl in Brussels as the Battle of Waterloo rages nearby; a sequel to Regency Buck and Devil's Cub that can be read as a stand-alone.
More info

Nonfiction about dueling:
The Duel: A History by Robert Baldick (1965). More info
Gentlemen's Blood: A History of Dueling by Barbara Holland (2004).
More info
Pistols at Dawn: A History of Duelling by Richard Hopton (2007). More info

Online:
Introduction to 18th Century Fashion at the Victoria & Albert Museum



Back to Historical Novels: Eighteenth Century

Back to Directory of Book Reviews