The Desert Crop
by Catherine Cookson
Reviewed by Margaret Donsbach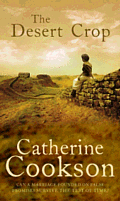 The Desert Crop opens with eight-year-old Daniel Stewart, a farm boy in late nineteenth century England, about to meet his new stepmother. "He recalled the day they had buried his mother .... His mother hadn't believed in hugging.... His mother hadn't even believed in holding his hand." Moira, the new wife his father brings back from Ireland, is different, a warm, laughing woman, eager to please and friendly even with the family's few servants. But times are hard, the farm in decline. Daniel soon discovers his father married Moira in the expectation that she would inherit money from her elderly great aunt.
Daniel grows, accepting responsibility beyond his years as the house fills with children. He learns other unpleasant truths about his father, a man prone to violent, unreasonable rages. Secrets multiply in the tense atmosphere. Daniel's hope and consolation is his sweetheart. "Her eyes were blue and her full lips red, and the skin on her face he likened to the top of the cream in the dairy." But the course of true love never does run smooth.
This is a coming-of-age novel that centers on Daniel's conflicts with his father and questions about the proper balance between taking responsibility for others and building a satisfying life for oneself. As Daniel matures, his romantic dilemmas become part of this theme, but the family story remains central.
Cookson has long been a phenomenally popular author in the U.K. The Desert Crop shows why, taking a sympathetic character and putting him in a heart-wrenching situation without slipping into melodrama. The reader never has to dig under the surface for meaning, and Cookson's prose is as straightforward as her story, calling attention to itself only when she sprinkles in a bit of nineteenth century slang. For example, joining a person for some "crack" means getting together for a friendly chat. (1997, 319 pages)
More about The Desert Crop at Powell's Books

Other coming-of-age stories by Catherine Cookson:
The Dwelling Place (1971), about a sixteen-year-old girl whose parents die in an 1832 cholera epidemic. More info
The Gillyvors (1990), about the six children of an unmarried couple in the late nineteenth century and their struggle with the shame of being born bastards, "gillyvors." More info
The Tinker's Girl (1994), about a poor teenaged girl who leaves the workhouse to become a family's maid-of-all-work. More info

Biographies of Cookson, whose life was as dramatic as her novels:
Catherine Cookson: The Biography by Kathleen Jones (1999). More info
The Girl From Leam Lane: The Life and Writing of Catherine Cookson by Piers Dudgeon (2006). More info

At the Movies:
The Catherine Cookson Anthology, an 8-disc set of DVDs with featuring film adaptations of 7 of Cookson's stories: The Cinder Path, Colour Blind, A Dinner of Herbs, The Girl, The Secret, The Tide of Life, and Tilly Trotter. More info

Online:
Catherine Cookson's Obituary in The Independent, June 12, 1998, which briefly tells the story of her remarkable life.



Back to Novels of Nineteenth Century Europe

Back to Directory of Book Reviews