The Demon's Parchment
by Jeri Westerson
Reviewed by Susan Gillmor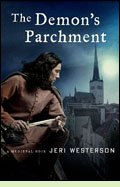 The Demon's Parchment is the third in Jeri Westerson's "medieval noir" mystery series featuring former knight Crispin Guest, saved from the gallows several years earlier by his erstwhile lord, the Duke of Lancaster. Now a down-and-out investigator in London, Guest is aided by his young apprentice, nearly-reformed street urchin and cutpurse Jack Tucker.
In 1384, Jewish physician Jacob of Provençal engages Crispin to recover some stolen Hebrew parchments. Jacob first tells Crispin they are simple Hebrew texts, but subsequent events suggest they comprise a mystical text, the Kabbalah. When Crispin hears this, "[v]ague impressions of half-remembered stories whispered through his mind like wisps of candle smoke. 'Jewish magic?'" Uttering words of the text, legend has it, can bring forth the Golem, a fearsome creature of clay.
In an England from which all practicing Jews have been exiled for nearly a century, Crispin grapples with a superstitious ignorance he never quite resolves, giving the story an intriguing moral dimension. His search for the Jewish documents barely begun, he happens upon a dead boy, the latest in a string of gruesome child murders, a major facet in a complex plot.
Richly intimate descriptions conjure up fourteenth-century London: "[T]he dusky outline of fog. . . swept slowly beyond him up the road like the Angel of Death and shrouded the carriage, painting it a ghostly shape with only the sound of the creaking wheels and clinking harness anchoring it to reality." Kabbalistic magic seems more than possible in a noir atmosphere where, "with the light of a shopkeeper's brazier filling the misty space behind, Crispin spied . . . something . . . against the snowy fog. A large, hulking silhouette."
Although the pacing can be uneven, and readers may at times agree with Crispin's assessment, "it was a confusing of facts," the many threads of the mystery are wrapped into a neat package by the end. The fourteenth-century events of The Demon's Parchment seem eerily modern and relevant for contemporary readers. (2010; 307 pages, including an Afterword and Glossary)
More about The Demon's Parchment at Powell's Books or Amazon.com
Interview with author Jeri Westerson

Other novels featuring Jewish mysticism:
The Last Kabbalist of Lisbon by Richard Zimler (1998), a mystery about a Portuguese Jew who investigates the murder of his mentor, a scholar of the Kabbalah, during a sixteenth century massacre of Jews by Christians. More info
Kabbalah of Stone by Irene Reti (2010), about a young man in fifteenth-century Spain whose world is turned upside down when he discovers his family are converted Jews (not a mystery). Review or More info
The Green Rose by Warren A. Silver (1977), about the eleventh-century Spanish Jewish mystic and poet Solomon ibn Gabirol (not a mystery). More info

Nonfiction about the Jews of medieval England:
The King's Jews: Money, Massacre and Exodus in Medieval England by Robin R. Mundill (2010). More info
Jews in Medieval Britain: Historical, Literary and Archaeological Perspectives by Patricia Skinner (2003). More info
A History of the Jews in England by Cecil Roth (1941). More info

Online:
Medieval cartoon against Jews at the British National Archives website (click on the magnifying glass symbol to see the whole cartoon)



Back to Medieval: 14th-15th Centuries

Back to Directory of Book Reviews