Delilah
by India Edghill
Reviewed by Margaret Donsbach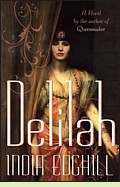 Readers familiar with the tale of Samson and Delilah will find new twists in India Edghill's retelling of the Biblical story (in Judges 13-16). Samson was the Israelite warrior who slew a thousand Philistines with the jawbone of an ass and destroyed their crops by setting the tails of three hundred foxes afire and turning them loose in Philistine fields and vineyards. He fell for Delilah, a seductive beauty who discovered the secret of his unusual strength and cut his hair as he slept so her people could enslave him. When his hair grew back, he destroyed a Philistine temple and the worshipers within by toppling its supporting pillars.
Edghill's sympathetic Delilah is a priestess of the goddess Atargatis and a supremely talented dancer. Temple ceremonies and the dress of the priestesses are lavishly described: "Curled and knotted hair, painted face and gilded breasts, cinched bodice and seven-tiered skirt, scarlet girdle and anklets hung with silver bells – unless I moved, I could be taken for a statue, an icon rather than a living woman." The novel lingers on Delilah's childhood and her close friendship with a fellow priestess, beautiful Aylah, whose shining blonde hair contrasts with her heart-sister's night-dark hair.
Samson, too, has sun-colored hair. His birth was considered miraculous, and his parents brought him up according to the strict religious precepts of the Nazirites, who abstained from alcohol and haircuts. Unlike the Biblical Samson, Edghill's hero is a pacifistic soul who keeps a tame lion and steadfastly refuses to lead a gang of hotheads (the "Foxes") who claim to be his followers.
Delilah paints a respectful portrait of Philistine culture and religion, though the evolving monotheism of its Israelite hero is subtly preferred. The novel can at times be repetitious in making its points, but the vivid scenes of life in the temple of Atargatis (perhaps just one of many guises through which people experience God's grace?) have considerable charm. (2009; 354 pages, including an Afterword discussing the Biblical and historical underpinnings of the story)
More about Delilah at Powell's Books or Amazon.com
Interview with author India Edghill

Other novels based on Old Testament stories:
Michal by Jill Eileen Smith, (2009), about the young King David's first wife. more info
Infinity in the Palm of her Hand by Giaconda Belli (2008), about Adam and Eve. More info
The Triumph of Deborah by Eva Etzioni-Halevy (2008), about the Israelite judge Deborah. See Review or More info at Powell's Books

Nonfiction about the Philistines:
Biblical Peoples and Ethnicity: An Archaeological Study of Egyptians, Canaanites, Philistines, and Early Israel, 1300-1100 B.C.E. by Ann E. Killebrew (2005). More info
People of the Sea: The Search for the Philistines by Trude and Moshe Dothan (1992). More info
Giving Goliath His Due: New Archaeological Light on the Philistines by Neal Bierling (1992). More info

At the Movies:
Samson and Delilah
, Cecil B. DeMille's 1949 extravaganza starring Victor Mature and Hedy Lamarr.

Online:
"Ancient Ashkelon," a 2001 article by Rick Gore in National Geographic about archaeological excavations at the Philistine city of Ashkelon



Back to Historical Novels: Ancient

Back to Directory of Book Reviews