Death at Glamis Castle
by Robin Paige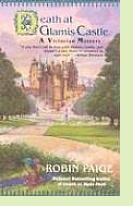 Death at Glamis Castle is the ninth in a mystery series by Robin Paige set in Victorian and Edwardian England and featuring Kate, an American writer of "penny dreadful" mysteries and (in the later books) her aristocratic British husband. Robin Paige is the pen name for the husband-wife writing team of Susan Wittig Albert and Bill Albert, and Death at Glamis Castle has a gently humorous quality reminiscent of Susan Wittig Albert's contemporary mystery series set in the Texas Hill Country, with touches of genuine historical detail sprinkled in.
The story revolves around two royal figures who in reality may never have set foot in the castle. Charles Edward Stuart, popularly known as Bonnie Prince Charlie, may have visited briefly toward the end of the failed 1746 Jacobite Rebellion. Prince Albert Victor was second in line to the throne in 1892 when his sudden death during an influenza epidemic gave rise to conspiracy theories, among them that he was murdered or his death faked to prevent him from ever becoming king. The mystery turns on the second theory, with the prince living secretly at Glamis Castle and suddenly disappearing at the same time a castle servant is found murdered, creating a crisis for the monarchy.
The young woman assigned to serve as Kate's lady's maid and tour guide is the murdered woman's daughter. She dutifully answers Kate's questions about the castle: "'The Bonnie Prince slept here for sev'ral nights after the battle at Falkirk,' Flora replied, 'in January of 1746. But his stay was a great secret, for his cause was already lost, y'see. Lord Thomas Strathmore, his host, feared that if 'twere known he had harbored the Prince, the English'd seize the estate.'" Kate soon learns the young woman's secret. "As she turned, she saw Flora standing at the other window, a wrenching sadness on her face and tears pooling in her gray eyes." Though it's at this point that the mystery really takes off, the most important clue has been planted with the story of Bonnie Prince Charlie. Paperback edition 2004, 338 pages.
More info about Death at Glamis Castle from Powell's Books

Other novels about Prince Albert Victor:
Goodnight Sweet Prince by David Dickinson (2002), a mystery based on the theory that prince may have been murdered. More info
King and Joker by Peter Dickinson (1976), an alternative history novel about what might have happened if Albert Victor had survived to become king. More info
Skeleton in Waiting by Peter Dickinson, the sequel to King and Joker (1990). More info

Nonfiction about Prince Albert Victor and "Bonnie Prince Charlie":
Prince Eddy: The King Britain Never Had by Andrew Cook (2006), about Prince Albert Victor. More info
The Royal Stuarts by Allan Massie (2012), about Scotland's Stuart dynasty, culminating with the story of "Bonnie Prince Charlie." More info



Back to Nineteenth Century Europe

Back to Directory of Book Reviews