Death and the Devil
by Frank Schätzing
Reviewed by Annis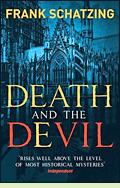 A psychological thriller, Death and the Devil is set in thirteenth-century Cologne, an ancient German city of great wealth riven by internal conflict. The city's rich patrician families are locked in a bitter power struggle with the Archbishop of Cologne, its nominal ruler. Meanwhile the up-and-coming merchants clamour insistently to be heard. "The time was close when wolves would appear in the dreams of men, a time of change, a time of hunting". Now the wolf is at the door, but who has called him?
Nicknamed "The Fox" because of his flame-red hair, likeable rogue Jacob lives by his wits within Cologne's underworld of the poor and dispossessed. While out stealing one evening he witnesses a murder at the building site of Cologne's magnificent new Gothic cathedral and becomes an unwitting impediment to the plans of powerful, ruthless men. The shadowy, demonic assassin who pushes the cathedral's architect to his death seems to have supernatural abilities. Remorselessly, he pursues Jacob throughout the city, leaving a trail of bodies in his wake. What chance does a little man have against such opponents? Everyone knows that to gain power over a demon you must possess his true name. To save themselves and those they care about, Jacob and the physician who befriends him must establish the killer's identity.
Balancing some weighty religious and philosophical debates and occasional eye-glazingly long expositions on Cologne's history, rollicking picaresque chases and constantly ratcheting tension enliven the story, which culminates in a dramatic showdown at the cathedral. Unfortunately Death and the Devil hasn't made a totally smooth transition from German into English. The "lost in translation" factor makes a sad irony of the epigraph (a quote from Peter Abelard): Language does not veil reality, but expresses it. It's a credit to Schätzing's vivid portrayal of medieval Cologne that he holds the reader's interest regardless. (1995 in the original German, 2008 in English; 400 pages including an Author's Note)
More about Death and the Devil at Powell's Books or Amazon.com

Fiction featuring the building of cathedrals: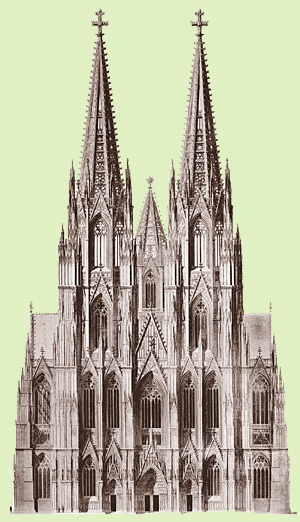 The Pillars of the Earth by Ken Follett (1989), about the building of a fictional cathedral in medieval England. More info
Cathedral of the Sea by Ildefonso Falcones (2008), about the building of a cathedral in medieval Spain. More info
The Heaven Tree by Edith Pargeter (1960), about the building of a cathedral in England near the Welsh border; most readily available in a single volume with its two sequels. More info

Nonfiction about medieval Germany and Cologne Cathedral:
The Cologne Cathedral by Arnold Wolff (1990). More info
Medieval Germany, 1056-1273 by Alfred Haverkamp (1988). More info
Church and Cosmos in Early Ottonian Germany: The View from Cologne by Henry Mayr-Harting (2008). More info

Online:
Cologne Cathedral at Wikipedia
A Little Closer to Heaven, a documentary about the building, history and modern restoration of Cologne Cathedral in English at www.Koelner-Dom.de, the website of Cologne Cathedral. Impressive!


Back to Medieval Novels: 12th and 13th Centuries

Back to Directory of Book Reviews