Deanna Raybourn
May 11, 2009
HistoricalNovels.info interviews
the author of Silent on the Moor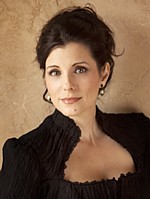 I was delighted to welcome Deanna Raybourn to the blog on May 11, 2009. Deanna has written three Lady Julia Grey mysteries, set in nineteenth century England and featuring an aristocratic heroine and her large, eccentric family. Her third novel in the series, Silent on the Moor, takes place in a decrepit manor house on the Yorkshire moors, and appeared in bookstores March 1, 2009.

What inspired you to season your historical novels with humor?
I write what I like to read! I love the British sense of humor--subtle and witty rather than slapstick and silly, and I try hard to incorporate that into my novels. It makes them much more fun to write, and--I hope--to read. I also think that humor humanizes historical characters who might otherwise be too stuffy or difficult for a modern reader to relate to. And if you read journals and letters, Victorians were often much more informal and much funnier than we like to believe.

Silent on the Moor has a more Gothic flavor than the first two Lady Julia Grey mysteries. Do you have a favorite Gothic novel?
Jane Eyre, and of course anything by Victoria Holt or Mary Stewart. I adore an imperiled heroine and an enigmatic hero. Honestly, though, I think it's the setting that gives it the Gothic flavor. Moors are tremendously atmospheric and not entirely comfortable places to be.

The speech patterns of the aristocrats living in and visiting Grimsgrave Hall are distinctly different from those of the rural folk in Yorkshire. How did you research the period dialogue in Silent on the Moor?
I was lucky enough to spend a week in Yorkshire just before I wrote the book. Once you learn to listen for the dialect, you can immediately see how different it is from other regions of England. I also read several books about Yorkshire to see the accent in print, and I watched loads of movies and hours of BBC. I loathe reading broad dialect so I won't write it, but I did try to render it in a way that the reader would get the suggestion of the accent without having to stop and puzzle over every word. It is a difficult balancing act, but I would rather err on the side of caution and deliver a suggestion of an accent rather than giving a reader a passage that takes them ages to decipher and takes them away from the plot.


---

Review of Silent on the Moor by Deanna Raybourn
Review of Silent in the Grave by Deanna Raybourn
See listing for Silent on the Moor at Powell's Books
See listing for Silent on the Moor at Amazon.com
See the entire Lady Julia Grey series at Powell's Books
See the entire Lady Julia Grey series at Amazon.com