The Daylight Gate

by Jeanette Winterson

Reviewed by Margaret Donsbach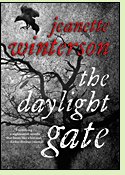 The Daylight Gate plunges readers into a time when people believed witches had supernatural powers. It shows us why in a series of short, impressionistic chapters alternating among characters with different reasons to believe or disbelieve in occult forces. Alice Nutter, an intelligent, wealthy widow, once pursued alchemical research with John Dee, discovering the magenta dye that made her fortune. Old Demdike and her family are ragged, dirty and well-acquainted with suffering; they would be homeless if Alice did not let them live in an old tower on her property; powerless, they long for the only kind of power they can imagine having. Thomas Potts, "a proud little cockerel of a man," is a legal official who has made himself important by hating everything King James hates - especially witchcraft and popery. Roger Nowell is the local magistrate; living in "the finest house in Pendle," he dislikes disturbance and prefers to take the line of least resistence, whether that means dismissing as irrational the idea that witches are active in his jurisdiction, or appeasing the King's witch hunter by making arrests.
In 1612, a group of accused witches from the Pendle Hill area were tried and hanged in Lancashire County, England. This short, intense novel is based on the extensive documentation from the trial. Its characters, all based on actual people, are portrayed with strong psychological realism within a setting saturated with the kinds of fears, longings and revulsions that fed occult beliefs in the early seventeenth century. This gives The Daylight Gate a quality of ruthless authenticity; as the occult elements seep into the story, readers are led to interpret them as dreams, hallucinations and wishful thinking - until the story begins to push us the other way. It's a profoundly skillful narrative that makes us feel the fears, desires and confusions of the past - and wonder about our own lives and the varied beliefs of our own time. (2012; 224 pages)
More about The Daylight Gate at Powell's Books
,
Amazon.com
, or
The Book Depository
Other novels about the Pendle witchcraft trials:
Daughters of the Witching Hill
by Mary Sharratt (2010). See
review
or
more info at Powell's Books
The Lancashire Witches
by William Harrison Ainsworth (1849), a nineteenth-century novel about the Pendle witches.
More info
Malkin Child
by Livi Michael (2012), a novel for young readers which centers on the nine-year-old girl, Jennet Device, who gave evidence against her family.
More info
Nonfiction about the Pendle witch trials:
The Lancashire Witches: A Chronicle of Sorcery and Death on Pendle Hill
by Philip C. Almond (2012).
More info
Wicked Enchantments: A History of the Pendle Witches and Their Magic
by Joyce Froome (2012).
More info
The Pendle Witch Fourth Centenary Handbook
by John A. Clayton (2011).
More info
Online:
www.pendlewitches.co.uk
, a website devoted to the Pendle Witches
Back to Novels of the Seventeenth Century
Back to Directory of Book Reviews