The Day the Falls Stood Still
by Cathy Marie Buchanan
Reviewed by Margaret Donsbach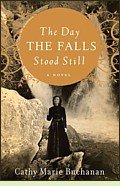 The Day the Falls Stood Still begins in 1915 as the narrator finishes her junior year at the Loretto Academy on the Canadian shore of Niagara Falls. Bess is a daughter of privilege, insulated from the war overseas and from financial want by her youth and her father's position as director of the Niagara Power Company. Then her father loses his position and she must leave school a year early.
Compensation arrives: "His eyes were like the Niagara River: green, full of vigor, captivatingly so. He was handsome, but not at all in an aristocratic way." More than the opposition of Bess's parents divides the young people. Bess takes for granted the importance of harnessing the Falls to make electrical power more widely available. The young riverman Tom believes it has been exploited enough already. "First it was just the gristmills on the rim of the gorge. An eyesore but harmless enough. But then the power companies came and dug their canals and tunnels, and started siphoning off water ..."
It's not that Bess is immune to Niagara's charm. She thinks she can see something special in the mist rising off the Falls, "flecks of shimmering silver, orbs of color a shade more intense than their surroundings." They are prayers, she decides. But when grief strikes her family, she discards such ideas. "When it comes to goodness or power, maybe even both, God does not meet the grade."
Nothing in The Day the Falls Stood Still is oversimplified. Both sides of the question of how much of Niagara's waters to develop for power are presented compellingly, and even characters who behave badly are portrayed with sympathy. Interspersed between chapters are lightly fictionalized newspaper clippings dating back to the nineteenth century before Bess was born: "Newcomer Rescues Men From Riverbed" and "Near Tragedy on Ellet's Bridge." At first these seem no more than snatches of history, but they soon become enmeshed with the story of Bess and Tom's love. (2009, 307 pages, including an Author's Note separating fact from fiction)
The Day the Falls Stood Still is on my "Best Historical Novels I Read in 2009" list.
More about The Day the Falls Stood Still at Powell's Books or Amazon.com
Interview with Cathy Marie Buchanan
"Tales of Niagara Falls," an article by Cathy Marie Buchanan about some quirky real-life events that inspired The Day the Falls Stood Still.






Other novels featuring Niagara Falls:
City of Light by Lauren Belfer (2005), about the headmistress of a girl's school in Buffalo, on the American side of the Falls, in 1901 as the Niagara is first harnessed for electricity. More info
The Falls by Joyce Carol Oates (2004), about a young woman widowed when her husband throws himself into Niagara Falls on their wedding night in 1950. More info
People of the Lakes by Kathleen O'Neal Gear and W. Michael Gear (1994), about the people who lived near Niagara Falls in prehistoric times; #6 in the First North Americans series. More info

Nonfiction about Niagara Falls:
Niagara: A History of the Falls by Pierre Berton (1993). More info
The Canadian Niagara Power Company Story by Norman R. Ball (2006). More info
Imagining Niagara: The Meaning and Making of Niagara Falls by Patrick McGreevy (1994). More info

Online:
Video of Niagara Falls at UTube
Digital Collection of Niagara Falls Guidebooks from the 19th Century

At the Movies:
Niagara, a 1953 thriller featuring Marilyn Monroe and Joseph Cotton as a profoundly unhappy couple on a belated honeymoon at Niagara Falls.
More info
Back to 20th Century North America: WWI Home Front

Back to Directory of Book Reviews