Daughters of the Witching Hill
by Mary Sharratt
Reviewed by Margaret Donsbach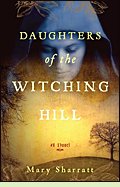 Daughters of the Witching Hill is based on an actual 1612 witchcraft trial in Lancashire County, England. In an unusual twist, the novel assumes much of the testimony was factual, from animal familiars to the efficacy of blessing charms and curses. The almost relentless realism of the setting lends plausibility to a tale in which many characters find it hard to distinguish the genuinely witchy from imaginings fed by fear and prejudice. The reader, too, cannot always be certain, making the tale especially haunting.
Bess, a poor beggar with a knowledge of herbs, barely keeps herself and her children a step ahead of starvation. She overcomes her strong reluctance to adopt the trade of cunning woman when she is asked to help a neighbor's sick child. Word of her success spreads, sealing her fate. It's only a small step from blessing to cursing, and amid the casual brutality of the time, the temptation is ever present. The risks are dire, though, and with a wall-eyed daughter and a slow-witted grandchild, Bess's family would be subject to prejudice even without her uncanny gifts.
In an age when lawful religion offered little comfort and the threat of starvation was very real, it could be hard to avoid criminal offense. And though torture was not officially part of the legal process then, even "mild" punishments like the stocks or imprisonment could prove deadly. In a mostly grim novel, bright moments come with Bess's memories of Catholicism, the Latin blessing rituals she uses ("Stay shut, hell door./Let the little child/Go to its Mother mild.") and the kindness and courage of some of her friends.
The plot moves somewhat slowly as Bess and her family edge gradually closer to disaster, while her reluctance to use her powers makes her a less dynamic heroine than some readers will wish for. But Daughters of the Witching Hill presents a compelling view of rural England after the consoling rituals of Catholicism are outlawed. (2010; 333 pages, including an Afterword discussing the historical background and sources)
More about Daughters of the Witching Hill at Powell's Books or Amazon.com
Interview with author Mary Sharratt

Other novels based on historical witch trials:
The Daylight Gate by Jeanette Winterson (2012), a novel portraying Alice Nutter and her attempt to defend the women of Pendle Hill accused of witchcraft in 1612. See review or more info at Powell's Books
The Lancashire Witches by William Harrison Ainsworth (1849), a nineteenth-century novel about the Pendle witches. More info
The Physick Book of Deliverance Dane by Katherine Howe (2009), a novel in a popular style about a modern woman who discovers an ancestor was accused of witchcraft during the Salem persecutions. See review or
more info at Powell's Books

Nonfiction about Folk Magic:
Popular Magic: Cunning-Folk in English History by Owen Davies (2007). More info
Cunning Folk and Familiar Spirits by Emma Wilby (2006). More info
Religion and the Decline of Magic by Keith Thomas (1971). More info

Online:
Pendle witches at Wikipedia.



Back to Novels of the Seventeenth Century

Back to Directory of Book Reviews