The Dark Angel
by Mika Waltari
Reviewed by Annis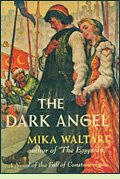 The Dark Angel is a vivid account of an apocalyptic event, the siege and fall of Christian Constantinople to the Ottoman Turks in 1453. It takes the form of a diary by John Angelos; seeker, visionary and world-weary wanderer. Returning to his birthplace to fight for the last bastion of the Eastern Roman Empire, he has a rendezvous to keep with an angel of death who bears his own face.
The last thing Angelos expects is to fall deeply and madly in love. It's a coup de foudre. "She looked at me and time paused in its flow, the sun ceased to move around the earth, the past mingled with what was to come and nothing existed but the moment - that single instant of life that not envious time itself can snatch away."
Time, however, is running out. The Byzantine Empire has shrunk to a shadow of its former glory. Its fabled capital, friendless and rife with treachery, is crumbling within its great walls. Emperor Constantine XI knows there can be no reprieve: "Soon the Empire of a thousand years will be at an end. It was founded by the first Constantine and perishes with the last." As the city readies its feeble defences to face a massive Turkish army, Angelos and Anna Notaras, a beautiful Greek noblewoman, pursue a tempestuous affair driven by longing and despair.
The Dark Angel is tragedy on a grand scale, given a poignant human face: "Heaven and earth and all their colors, the soot and the blood - all was unutterably beautiful in my sight just then, while the blank eyes of the dead around me stared into vacancy". Through deafening Turkish bombards and desperate, bloody battles on the disintegrating walls to lovers' final embrace, we stand witness with Angelos to the death throes of the Last Rome. A cry of anguish rings out, echoing through Christendom to signal the end of an era: "Aleo e polis! The city is lost!" (1952 in the original Finnish, 1953 in English translation; 374 pages)
More about The Dark Angel at Amazon.com

Other novels about sieges:
The Religion by Tim Willocks (2008), about the 1565 Siege of Malta. More info
The Siege of Krishnapur by J.G. Farrell (1973), about the 1857 Siege of Krishnapur during the Indian Mutiny. More info
City of Thieves by David Benioff (2008), about the 1941 siege of Leningrad. More info

Nonfiction relating to the fall of Constantinople:
The Fall of Constantinople: 1453 by Steven Runciman (1990). More info
Sea of Faith: Islam and Christianity in the Medieval Mediterranean World by Steven O'Shea (2006). More info
Mehmed the Conqueror and his Time by Franz Babinger (1992). More info

Online:
Fall of Constantinople Panorama, a slide show of scenes from the Panorama 1453 Museum in Istanbul (or download and tour the complete Panorama).



Back to Novels of Medieval Constantinople

Back to Directory of Book Reviews