Courting Mr. Lincoln
by Louis Bayard
Reviewed by Margaret Tomlinson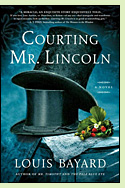 Courting Mr. Lincoln spins an imaginative, well-researched and very plausible tale of how Mary Todd and Abraham Lincoln came to know each other and, after a courtship full of missteps and uncertainty, to be married. Mary Todd Lincoln said what she thought about politics and other matters in a time when women were expected to defer to male opinions and take no interest in politics. This novel shows her in a sympathetic light without toning down her outspoken personality and tart sense of humor. 

Mary Todd came from a political family; her witty political insights were no doubt part of what attracted a young Springfield lawyer with political ambitions. The years in which, on and off, she and Abraham Lincoln were getting to know each other were also years in which he began a close friendship with Joshua Speed, who managed a Springfield general store. The two men shared a bed in Speed's apartment above the store, a practical measure that raised no eyebrows at the time but which, today, has spawned a theory that the two men had a physical relationship. Courting Mr. Lincoln leaves the question open, treating the friendship in a dignified way that suggests its strength without crossing the line into sensational speculation.

Telling the story mostly from young Mary Todd's point of view lets her shine in a way she could not during her lifetime; in turn, she makes the novel sparkle. Modern readers can appreciate how, with her irresistible witticisms, she subconsciously drives away men who would quickly have squashed her spirit. The cautious way in which she and Lincoln warm to each other is a story worth telling. Their marriage might not have happened; if not, would history have been altered? (2019, 379 pages)
More about Courting Mr. Lincoln at Powell's Books
or
The Book Depository
Other historical novels about Mary Todd and Abraham Lincoln:
A Friend of Mr. Lincoln
by Stephen Harrigan (2016), about Abraham Lincoln during his twenties and thirties in Springfield, Illinois, as seen by a fictional poet in his circle of friends.
More info
Mrs. Lincoln's Dressmaker
by Jennifer Chiaverini (2013), about Elizabeth "Lizzie" Keckley, a former slave who became Mary Todd Lincoln's dressmaker while Mrs. Lincoln was First Lady.
More info
The Emancipator's Wife
by Barbara Hambly (2005), a biographical novel about Mary Todd Lincoln.
More info
Nonfiction about Mary Todd Lincoln:
Mary Todd Lincoln: A Biography
by Jean H. Baker (1987).
More info
Behind the Scenes: Or, Thirty Years a Slave and Four Years in the White House
by Elizabeth Keckley (1868), an autobiography of Elizabeth Keckley, Mrs. Lincoln's dressmaker in the White House.
More info
The Lincolns: Portrait of a Marriage
by Daniel Mark Epstein (2008).
More info
Online:
The Life of Mary Todd Lincoln
at the Ohio State University eHistory website
Back to Nineteenth-Century America
Back to Directory of Book Reviews