Cotillion
by Georgette Heyer
Reviewed by Margaret Donsbach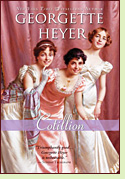 Cotillion is among the best of Heyer's classic Regency novels. Its heroine is a sheltered young woman who recklessly grabs for a smidgen of happiness after her miserly guardian launches a humiliating scheme to marry her to one of his nephews. When she was an orphaned child, the wealthy but pennypinching Mr. Penicuik, in an uncharacteristic fit of altruism, took her in and raised her. While not a blood relation, she has since been treated - and regarded herself - as a cousin to Penicuik's nephews. She has a weakness for only one of her cousins, the one who refuses to countenance Penicuik's scheme.
Although Heyer launched the "Regency romance" genre, her romances have little in common with so many today which revolve around a love interest's physique and sexy banter. Heyer's emphasize comedy over romance. If the finale of Cotillion is heartwarming enough to make readers reach for their handkerchiefs, the novel's chief delight is the tangle of potentially embarrassing scrapes Kitty gets herself into. Under the influence of a couple of small glasses of spiked punch, she inveigles one of her cousins against his better judgment into helping her spend a month in London. The scheme involves a certain amount of - well, dissembling, though Kitty hasn't a streak of unkindness in her character. Knowing nothing of city life, she is too naïve to realize what class of people one does and, in her circles, does not befriend, and she has too much heart to refuse help to a friend. The result is a web of misbegotten romantic attachments only a novelist with Heyer's plotting skill could shepherd to a happy ending.
Heyer knew the Regency period inside and out and lards her characters' dialogue with its slang. "Nice gudgeon I should look," one cousin protests. Readers who struggle with archaic language may find Cotillion is not for them; those who delight in it will find the novel delicious through and through. (1953, 355 pages in the recent Sourcebooks edition)
More about Cotillion at Powell's Books
,
Amazon.com
or
The Book Depository
Other Regency romances:
May 1812
by M.M. Bennetts (2009), about a man who must marry the bride designated in his late father's will or lose his fortune. See
review
or
more info at Amazon.com
Seducing an Angel
by Mary Balogh (2009), about a young woman wrongly branded a murderess and driven into destitution who comes to London to find a wealthy man she can tempt into taking her as his mistress; explicit sex; #4 in the Huxtable series. See
review
or
more info at Powell's Books
The Duchess and the Dragon
by Jamie Carie (2008), a Christian-themed Regency about a woman torn between two men.
More info
Nonfiction about life in Regency England:
Georgette Heyer's Regency World
by Jennifer Kloester (2005).
More info
An Elegant Madness: High Society in Regency England
by Venetia Murray (1999).
More info
The Mirror of the Graces; or, The English Ladies Costume
by "A Lady of Distinction" (1811).
More info
Online:
Nancy Mayer, Regency Researcher
, a site devoted to Regency rules, customs and culture
Back to Novels of Nineteenth-Century Europe
Back to Directory of Book Reviews