The Convict's Sword
by I.J. Parker
Reviewed by Margaret Donsbach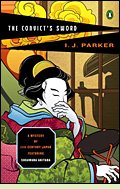 Sixth in the Akitada series, The Convict's Sword serves up several layers of mysteries amid a rich depiction of the city of Heian-kyo (now Kyoto), eleventh-century Japan's capital. Lord Sugawara Akitada is an official in the Ministry of Justice. Bureaucracy reigns, and his position is far from secure. His boss wants to get rid of him; his inept clerk wants his job; and his boss's intelligent, capable clerk would rather work for Akitada, a situation which seems to present more problems than it solves.
Meanwhile, for almost five years Akitada has deferred fulfilling a promise to the friend who died saving his life. As he finally embarks on this challenging investigation, his loyal retainer is accused of murdering a blind woman. Complicating Akitada's efforts on behalf of the dead and the living are a smallpox epidemic and a crime wave the police seem unable or unwilling to combat. On top of everything, his cherished wife suddenly turns coldly polite.
Japan in the Heian era is both wonderfully exotic and a place of passions, anxieties, frustrations and heartaches that remain familiar. Aristocratic men, the masters in their homes, may take multiple wives, but the temptations of beautiful women in their layers of fluttering silks are not without peril, and wives have ways of making their anger felt. Fine swords are status symbols created by skilled artisans; murder is eternal. "In the flickering light, the lines produced by fusing the layers of steel began to undulate and shimmer along the deadly edge. How very close were art and violence!"
Clear, vivid, well-organized writing makes a complex story easy to follow. Parker deftly fills readers in on past events without slowing the pace. On its own, The Convict's Sword is an absorbing, suspenseful tale. The mysteries in the Akitada series do build on each other, though, so readers who enjoy following the changes in a character's life over time will want to read them in chronological order. (2009; 416 pages, including a Historical Note about ancient Japan during the Heian Age)
More about The Convict's Sword at Powell's Books or Amazon.com
Interview with author I.J. Parker

Other mysteries in the Akitada series:
The Dragon Scroll (2005), the first Akitada mystery in chronological order, featuring a case of theft that turns to murder. More info
Black Arrow (2006), #3 in the series, telling the story of the friend who dies saving Akitada's life. More info
The Masuda Affair (2010), #7 in the series. More info

Nonfiction about Japan in the Heian era:
Sugawara no Michizane and the Early Heian Court by Robert Borgen (1986). More info
Kyoto: The Old Capital of Japan, 794-1869 by R.A.B. Ponsonby-Fane (1956). More info
Population, Disease and Land in Early Japan, 645-900 by Wayne Farris (1985). More info

Online:
Shinden-zukuri Estates of the Heian Period by Anthony J. Bryant, an article about the architecture of wealthy people's houses in Japan during the Heian era



Back to Historical Novels of Asia

Back to Directory of Book Reviews