The Constable's Tale

by Donald Smith

Reviewed by Margaret Tomlinson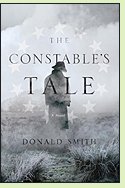 Set in Colonial North America, The Constable's Tale is a mystery featuring a rural county constable in North Carolina who aspires to mix with gentry. As a child, Harry Woodyard learned lessons in fighting and wilderness survival from a Tuscarora Indian. Later, he studied an etiquette manual, "Rules of Civility," which includes such gems (chapter headings in the novel) as: "In Speaking to men of Quality do not lean nor Look them full in the Face...." Now married to a woman who was once his indentured servant, Harry still feels bruised by the loss of his first love.
His background emerges gradually enough that some readers may wonder whether they missed an earlier installment. This is indeed the first in a planned series, though. Harry's experiences and personality are complex enough to support a strong mystery series; for many readers, his situation and setting may be more compelling than the mystery. Someone has murdered a family of settlers, leaving only one small child alive. The local authorities jump to the conclusion that Indians are responsible, but Harry is not so sure. While investigating the scene, he finds a gold medal engraved with a Masonic symbol and some coded writing, lying on top of a sketched nautical chart. These clues, which others dismiss as unimportant, send him on a journey to find the medal's owner.
Some classic elements of a compelling whodunit are missing from The Constable's Tale. Potential killers with assorted motives and alibis do not abound, nor do juicy new clues emerge as the story continues. Harry's journey is eventful, though, and readers interested in the grittier side of Colonial life will enjoy the richly drawn historical setting. As Smith gains skill in crafting mysteries, future novels in this series could prove thoroughly satisfying. (2015, 287 pages, including an Acknowledgments section mentioning several research sources)

More about The Constable's Tale at Powell's Books
or
Amazon.com
Other mysteries set in Colonial North America:
Original Death
by Eliot Pattison (2013), about a Scot and his Nipmuc Indian friend investigating a massacre during the French and Indian War; #3 in the Bone Rattler series. See
review
or
more info at Powell's Books
The Ninth Daughter
by Barbara Hamilton (2009), featuring Abigail Adams (not yet First Lady) turning sleuth in 1773 after stumbling across a woman's corpse; #1 in the Abigail Adams mystery series.
More info
Thieftaker
by D.B. Jackson (2012), historical fantasy set in Colonial Boston about a crime-solving sorcerer whose efforts to recover a murdered woman's necklace bring him into conflict with a more powerful sorcerer.
More info
Nonfiction about Colonial North America:
The Tuscarora War
by David La Vere (2013).
More info
Scots and Scotch-Irish: Frontier Life in North Carolina, Virginia, and Kentucky
by Larry J. Hoefling (2009).
More info
The French & Indian War in North Carolina:
by John R. Maass (2013).
More info
Online:
The French & Indian War in the Carolinas
, at the Royal Colony of Carolina website
Back to Novels of the 18th Century
Back to Directory of Book Reviews