The Confessions of Catherine de Medici
by C.W. Gortner
Reviewed by Margaret Donsbach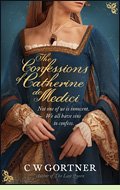 Toward the end of The Confessions of Catherine de Medici, Catherine, the narrator, asks, "What legend will history inscribe for me?" Most readers know at least a bit of the legend labeling her a ruthless, evil political genius. For years, though, Catherine seemed fated to be the helpless pawn of others.
Orphaned within a month of her birth, she became a ward of her Medici relation Pope Clement VII. At ten, she experienced the horrors of war when Holy Roman Emperor Charles V besieged Florence. At fourteen, she married Prince Henri II, second in line after his frail brother to the French throne. If she had been beautiful and experienced enough to beguile him, her fate might have been different, but she had to endure his open attachment to Diane de Poitiers, possibly the reason Catherine bore no children during the first ten years of her marriage. After Henri's death, when her fifteen-year-old eldest son became king, she failed to effectively oppose the powerful Duc de Guise. She was a determined and intelligent woman, though, and she learned.
The most dramatic events of Catherine's adult life include the 1572 Bartholomew's Day massacre of Protestant Huguenots, vividly and chillingly depicted in the novel, and the subsequent civil wars between the Catholics and Huguenots of France. Readers will sympathize with Catherine as she struggles, with mixed success, to guide her sons through the turmoil, establish religious tolerance and protect France from being overpowered by Spain and the Inquisition, even as she makes decisions which history justifiably condemns. Other characters, including her children, forced too young to assume daunting responsibilities, are also portrayed with sympathetic complexity. The chief villains in the story are de Guise and his family.
Though not literary in its prose style, The Confessions of Catherine de Medici shows a depth of insight that often matches the best literary novels, along with a brisk pacing that, especially during the eventful years of Catherine's widowhood, will keep readers riveted. (2010; 397 pages, including an Author's Afterword discussing the history behind the novel)
More about The Confessions of Catherine de Medici at Powell's Books or Amazon.com
Interview with author C.W. Gortner

Other novels about Catherine de Medici and the people in her life:
The Devil's Queen by Jeanne Kalogridis (2010), a more romanticized version of Catherine's life, which emphasizes the supernatural. Review or More info at Powell's Books
Courtesan by Diane Haeger, (1993), about Diane de Poitiers, Henri II's mistress. More info
Young Henry of Navarre by Heinrich Mann (1985 in English translation), about Henry of Navarre, who was raised partly in Catherine's court and later married her daughter Margot. More info

Nonfiction about Catherine de Medici:
Catherine de Medici by Leonie Frieda (2003). More info
Madame Catherine by Irene Mahoney (1975). More info
Catherine de' Medici by Jean Heritier (1963). More info

Online:
Catherine de' Medici at Wikipedia
The Memoirs of Marguerite de Valois, a daughter of Catherine, at Project Gutenberg



Back to Novels of the Renaissance

Back to Directory of Book Reviews