Conceit
by Mary Novik
Reviewed by Margaret Donsbach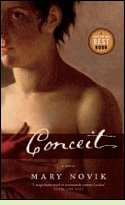 Conceit confronts the great themes of love and death through the life of Pegge Donne, youngest daughter of the seventeenth century poet and celebrated clergyman, John Donne. In Donne's poetry, such themes are grandiose abstractions: metaphors, for example, likening his young wife's naked body to a map of the New World. For the teenaged Pegge Donne of Conceit, his expressions of passion for her long-dead mother seem a call to live life to its fullest.
Longing for her own passion, Pegge nurses a crush on the oblivious Izaak Walton, an enthusiastic angler. "Walton was snapping open the bait-boxes and the warblers were quarrelling over the ripe fruit in the tree above her. When she reached the narrow outcropping, her hands were as purple as the fallen mulberries…. All morning the rock had been gathering heat, and now she melted into it, a new and not-unpleasant feeling, her breasts tender against the hardness. The rock was talking to her body, and her body to the rock, but what they were saying could never be written down, not in the King's English as taught to gentlewomen. Steam was rising from her petticoat, causing an uncommon moistness all about her."
Novik's characters are almost tangibly present, their physical weight and emotional yearning giving special force to her theme. As Pegge explores the sensations, outer and inner, of approaching womanhood, her father is dying. With Walton's assistance, he sorts through his writings and sets down reflections he refuses to share with her. She tends his decaying flesh and casts for truth from his river of memories. When she finds it, though, it comes from her own experience. (2007, 398 pages)
This is on my list of The Ten Best Historical Novels I Read in 2008.
More about Conceit from Amazon.com

Other historical novels about poets:
The Laughter of Aphrodite by Peter Green (1993), about the ancient Greek poet Sappho. More info
The Blue Flower by Penelope Fitzgerald (1995), about the eighteenth century German poet Friedrich von Hardenberg, who wrote as "Novalis" during the age of Goethe. More info
Fall of Frost by Brian Hall (2008), about the twentieth century American poet Robert Frost. More info

John Donne's poetry and prose:
The Complete Poetry and Selected Prose of John Donne (Modern Library Classics, 2001). More info
Selected Poems by John Donne (Dover Thrift Editions, 1993), includes 73 poems. More info
John Donne – The Major Works: Including Songs and Sonnets and Sermons (Oxford World's Classics, 2000) More info

Biographies of John Donne:
The Life of Dr. John Donne by Izaak Walton (1640). More info
John Donne: The Reformed Soul by John Stubbs (2008). More info

Online:
The Life of Dr. John Donne by Izaak Walton at the Anglican History website



Back to Historical Novels: 17th Century

Back to Directory of Book Reviews