Command
by Julian Stockwin
Reviewed by David Maclaine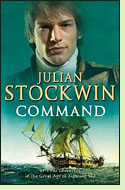 At the outset of Command, seventh in the Kydd series, the hero seems poised to watch his promising career spiral down the drain. But just when the ire of Thomas Paine Kydd's old adversary seems to have wrecked his chances, a great stroke of fortune restores them, and Kydd finds himself the delighted commander of a sloop of war named Teazer. He is quickly confronted with all the challenges of command, from scraping together a crew at Malta and trying to rectify the ship's light armament, to instantaneous decisions in the face of the enemy. Sometimes he blunders, other times he is undone by sheer bad luck, but he learns quickly, and with the occasional stroke of good fortune, finds that his leadership and judgment are up to the challenge. Just when he wins the sort of distinction that should lead to further advances in his career, he is undone by the direst turn of events that can befall a professional fighting man: the outbreak of peace. Soon Kydd is sculling hopelessly in a backwater, desperate for some way to return to the sea. When his chance comes, it involves a dispiriting compromise. But he is on his way once more to the far side of the world, where he will play a role in exploring a new continent. In the meantime his friend Renzi, recovered from a near-fatal fever, is caught up in another clash between his idealistic dreams and the harsh realities of an unfamiliar land.
Once again author Stockwin provides well researched views of odd corners of the world at the dawn of the nineteenth century, as he spins out action sequences informed by a keen understanding of the details that made the crucial difference between life and death in combat during the Age of Sail. Command is an apt title, the right word both for Kydd's latest step forward and for his creator's mastery of historical detail and the storyteller's art. (2006, 320 pages)
More about Command at Powell's Books
or
Amazon.com
Other novels about naval officers during the Napoleonic Wars:
A King's Commander
by Dewey Lambdin (1997), about a pleasure-loving officer in the British navy with orders to lure an old enemy into battle; #7 in the Alan Lewrie series.
More info
Ramage's Diamond
by Dudley Pope (1976), about a British naval officer, now post captain and in command of a frigate, charged with blockading the French Caribbean Port Royal and attacking French convoys; #7 in the Ramage series.
More info
Flying Colours
by C.S. Forester (1938), about a British naval officer condemned to execution with his lieutenant and brought to Paris for the sentence to be carried out; #7 (chronologically by setting) in the Horatio Hornblower series.
More info
Nonfiction about naval warfare in Napoleon's time:
Naval Battles of the Napoleonic Wars
by W.H. Fitchett (2007).
More info
British Napoleonic Ship-of-the-Line
by Angus Konstam and illustrator Tony Bryan (2001).
More info
The Campaign of Trafalgar, 1803-1805
by Robert Gardiner (2002).
More info
Online:
Siege of Malta
at Wikipedia
Back to Novels of the Napoleonic Era
Back to Directory of Book Reviews