Cleopatra's Moon
by Vicky Alvear Shecter
Reviewed by Margaret Donsbach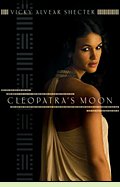 Cleopatra's Moon is about the daughter of Cleopatra VII, Egypt's last pharaoh. In the shadow of Rome's growing power, Cleopatra risked all by allying herself with one Roman, Mark Antony. Their defeat by Octavian, the future Caesar Augustus, ended with the death of both Cleopatra and Mark Antony. Octavian took their daughter, Cleopatra Selene, to Rome as a captive and displayed her in his triumph. She lived in the household of his sister Octavia, Mark Antony's first wife.
In the novel, Cleopatra Selene comes to life as an intelligent, strong-minded young woman who gains insight from her devotion to the Goddess Isis. Her story begins with the events leading to Egypt's fall when she is ten. Her determination and unusual upbringing make Cleopatra's Moon a solid story for teens from the beginning. After she is taken captive, Cleopatra Selene refuses to passively accept her fate. As daring as her mother, she is willing to risk her life to regain her heritage: the rule of Egypt.
As she grows into her teens, two young men attract her. Kind and scholarly Juba, a prince of Numidia (today's Algeria and Morocco), remembers no life before Rome and expresses no ambition to rule his homeland. Octavia's son Marcellus is heir to Rome. One day he may be able to send Cleopatra Selene back to Egypt as Rome's powerful client queen. But Marcellus is known for losing interest in girls as soon as they give him what he wants.
Which of these young men should she encourage? Can she marry either? History reveals the end of Cleopatra Selene's story, but for readers who don't know it, part of the fun of the novel is finding out what happens. (2011; 355 pages, including author's notes about the historical facts behind the novel. Recommended for ages 13 and up.)
More about Cleopatra's Moon at Powell's Books or Amazon.com
Interview with author Vicky Alvear Shecter

Other YA and children's novels set in Egypt and Rome:
Sphinx's Princess by Esther Friesner (2009), a novel which imagines the life of Nefertiti as a child and young teen when she is forced to go to Thebes against her will to become the future wife of the pharaoh's son. Recommended for ages 12 and up. See review or more info at Powell's Books
Cleopatra, Daughter of the Nile by Kristiana Gregory (1999), a novel in the form of a diary kept by twelve-year-old Cleopatra after her father goes into hiding because of threats against his life, which may also endanger her. Recommended for ages 9-13. More info
The Wadjet Eye by Jill Rubalcaba (2000), about a medical student in ancient Alexandria, Egypt, who journeys to Spain after his mother dies to find his father, a soldier in the Roman Army of Julius Caesar. Recommended for ages 9-12. More info

Nonfiction about Cleopatra and her children:
Cleopatra: A Life by Stacy Schiff (2010), an acclaimed biography of Cleopatra for adult readers. More info
Cleopatra by Diane Stanley and Peter Vennema (1994), for ages 9-12. More info
Cleopatra, Queen of Kings by Fiona MacDonald (1991), for ages 9-12. More info


Online:
Cleopatra Selene II at Wikipedia



Back to Young Adult Novels: Ancient History

Back to Directory of Book Reviews