Claude and Camille
by Stephanie Cowell
Reviewed by Margaret Donsbach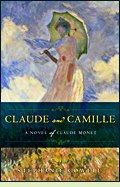 Claude and Camille is about artist Claude-Oscar Monet from age seventeen when he meets his mentor, artist Eugène Boudin, to the death of his first wife. Two love stories entwine, and the story of the painter in love with painting sometimes overshadows that of the man in love with a woman, as likely happened with the real Monet. Interludes set thirty years after his death feature him reflecting back on his relationship with the beautiful Camille as he struggles with his waterlily series.
Nineteenth-century Paris loved art (even if it found artists rather disreputable), so a successful artist could make a living. The Impressionists, though, were greeted with a profound lack of interest. Claude continually assures Camille that "things will change for me," but only his belief in himself and the assurances of his friends that his work is good offer any hope of this. Gallery owners tell him potential buyers think his paintings look unfinished. "They don't want to hang sketches on their walls."
Both Claude's father and Camille's parents refuse to support them. His father urges him to return to Le Havre and work in the family's marine supply shop. Camille's family urges her to leave him and marry a respectable professional. So they live in a poverty lightened only by their love, the companionship of Claude's similarly impoverished artist friends, and the occasional prize or sale for one of his paintings.
Impressionists were known for painting outdoors - en plein air. Love scenes with both woman and canvas are most vivid when Claude is outdoors, or nearly so. "They climbed down to the west sand, where he pulled her steadily toward a rough little windowless shack ... " Painting in a rainstorm: "He opened his large umbrella and held it more over the easel and the empty canvas than himself.... The flowers and the shadows and the air moved against his brush; they moved from all about him to the canvas." (2010; 338 pages, including Historical Notes and a list of paintings mentioned in the novel)
More about Claude and Camille at Powell's Books or Amazon.com
Interview with author Stephanie Cowell

Other novels about Impressionist painters:
Depths of Glory by Irving Stone (1985), about Camille Pissarro. More info
Lydia Cassatt Reading the Morning Paper by Harriett Scott Chessman (2002), about artist Mary Cassatt and her sister Lydia. More info
Luncheon of the Boating Party by Susan Vreeland (2007), about Auguste Renoir. More info

Nonfiction about Claude Monet:
Monet by Robert Gordon (1993), reproductions of Monet's paintings, plus personal letters and unpublished documents. More info
Monet's Water Lilies by Vivian Russell (1998), reproductions of Monet's water lily paintings, photographs of water lilies, and archival photos of Monet and his garden. More info
Hidden in the Shadow of the Master: The Model-Wives of Cézanne, Monet, and Rodin by Ruth Butler (2008), about Hortense Fiquet Cézanne, Camille Doncieux Monet, and Rose Beuretthe Rodin. More info

Online:
Book trailer for Claude and Camille
Claude Monet: French Impressionist, 1840-1926, an extensive online art gallery with biographical notes



Back to Novels of Nineteenth Century Europe

Back to Directory of Book Reviews