City of Silver
by Annamaria Alfieri
Reviewed by Margaret Donsbach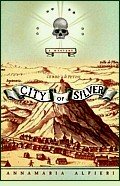 The mystery novel City of Silver paints a striking portrait of the Peruvian city of Potosí in 1650. It is both the highest city in the world and the richest. The wives of its Spanish officials must travel into the valley to give birth, or their babies may not survive in its thin air. Native men conscripted to work in the silver mine toil for miserable wages in the dim light of candles fixed to their headgear. Men of inadequate wealth long for imported dishware of fine porcelain instead of the city's ubiquitous silver plates.
Alas, all good things come to an end. The veins of ore are thinning. Rumors reach Spain that some of the coins coming out of Potosí are adulterated. A royal official is dispatched to investigate, accompanied by an agent of the Inquisition. The people of Potosí, from its most powerful men to its most recklessly indulged young ladies to its most long-suffering workers, shudder in fear.
The story is told from numerous points of view, and for some readers there may be a few too many characters to easily keep track of. But it soon becomes clear that Mother Maria Santa Hilda, the abbess of a cloistered convent, is the central figure. "She was a beacon of profound grace," reflects the convent chaplain. "More than a few times, in the midst of a philosophical discussion, she had asked him a question so subtle and pertinent that it had illuminated vistas of knowledge of God's ways and the world's."
To disobedient young women who defy their fathers, the convent can represent a threat of imprisonment. To Maria Santa Hilda and to many of the nuns under her care, it is a cherished refuge. When a beautiful young postulant dies suddenly and mysteriously, though, Maria Santa Hilda finds her haven is all too enmeshed with the worldly troubles outside its walls, and she and her nuns are in as much danger as anyone else in Potosí. (2009, 317 pages)
More about City of Silver at Powell's Books or Amazon.com
Interview with Patricia King, author of City of Silver under the pen name Annamaria Alfieri

Other mysteries revolving around silver:
The Silver Pigs by Lindsey Davis (1989), about a sleuth in ancient Rome whose investigation brings him to a silver mine in Roman Britain; #1 in the Falco mystery series. More info
The Thief Taker by Janet Gleeson (2004), featuring a sleuth who is a cook for a family of famous eighteenth century London silversmiths. More info
Silver Lies by Ann Parker (2003), about a woman saloon owner in an Old West silver mining town in Colorado who investigates the murder of a friend; #1 in the Silver Rush mystery series. More info

Nonfiction about Potosí and its silver mines:
I Am Rich Potosi: The Mountain that Eats Men (1999), photographs by Stephen Ferry and text by Eduardo Galeano. More info
Potosí: The First One Hundred Years by Juanita Daniel Zachry (1967).
More info
Coercion and Market: Silver Mining in Colonial Potosí, 1692-1826 by Enrique Tandeter (1993). More info

At the movies:
The Devil's Miner, a 2005 documentary film about a 14-year-old miner in Bolivia's Cerro Rico silver mines near Potosí who believes even today, as the other miners do, that within the mine the devil "Tio" is more powerful than God and must be propitiated to keep the mountain from eating them alive. More info

Online:
"The Mountain that Eats Men," an article about Potosí's mines at Slate.



Back to Historical Novels: Latin America

Back to Directory of Book Reviews