Circe
by Madeline Miller
Reviewed by Margaret Tomlinson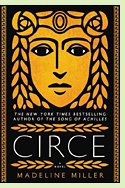 Circe is about the the semi-divine nymph who delayed Odysseus's return from the Trojan War. In Homer's Odyssey, she is enticing and malicious, a host who transforms Odysseus's crew to swine, and then detains Odysseus on her isle for a year of empty pleasures. In the novel, other tales are folded in to create a richly satisfying story of a sympathetic, though hardly flawless, feminist figure.

Circe is the daughter of the Titan sun god Helios, a being whose "flesh was hot as a brazier," so that the child Circe "pressed as close as he would let me, like a lizard to noonday rocks." He is also stupendously narcissistic, devoid of love or compassion. His punishment of Prometheus, a sort of appetizer before the famous one commanded by Zeus, horrifies and mesmerizes Circe, awakening a spark of compassion in her. Instead of blood, the ichor of divinity flows from Prometheus's wounds, a sort of liquid gold with a smell "thick as honey." Circe will soon have other emotions: she falls in love, feels jealous, wants revenge. And before long, she, too, must be punished for disobedience. With her exile, to an isle where she is the sole inhabitant, comes a lonely sort of freedom; within that circumscribed semi-paradise, she is an absolute ruler. And, occasionally, visitors step onto her shores to make life interesting.

In myth and legend, characters are archetypes whose emotional power depends on simplicity. In this novel, the central characters are complex. Their emotional power is drawn from the interweaving of often-contradictory desires and motivations that make them both believable and fascinating, people capable of surprising us, of growing. At the same time, they remain true to the archtypal nature of the stories that inspired them, even if those archetypes show us different faces. Homer once brought these old myths alive in ways that, in his time, offered new and surprising insights. Miller does the same. Circe is a wonder of a novel. (2018; 393 pages, including a "Cast of Characters" orienting readers to the traditions of classical Greek myth)
More about Circe at Powell's Books
or
The Book Depository
Other novels based on Greek myth and legend:
The Song of Achilles
by Madeline Miller (2011), about Achilles, a Greek hero in the Trojan War, and his boyhood friend Patroclus.
More info
The Penelopiad
by Margaret Atwood (2005), about Odysseus' wife, Penelope, and her experiences during his absence.
More info
The King Must Die
by Mary Renault (1958), a retelling of the legend of Theseus. See
review
or
more info
.
Nonfiction about ancient Greece:
The Trojan War: Literature and Legends from the Bronze Age to the Present
by Diane P. Thompson (2nd ed. 2013).
More info
Homeric Moments
by Eva Brann (2002).
More info
The World of Odysseus
by M.I. Finley (1954).
More info
Online:
Circe
at Encyclopedia Mythica
Back to Novels of Ancient History
Back to Directory of Book Reviews