Chrysalis
by Richard Romanus

Reviewed by Margaret Donsbach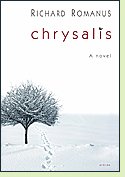 Chrysalis is set in a Greek mountain village during World War II and the Greek Civil War. It centers on Maria, a slender, astigmatic young woman whose father has never recovered from her mother's death in childbirth. In Metsovo, unlike most of the rest of the world, the stronger and more robust a woman is, the more beautiful people find her. Long-suffering and self-effacing Maria, "an aspen among sycamores, was considered the least attractive girl in the village." She is also secretly, guiltily, in love with her sister's husband. Soon she will feel more guilty than ever because of an event that demonstrates to her fellow villagers, despite her appearance, her exceptional bravery and physical strength.
As the novel begins in October 1940, Maria is seventeen and Mussolini's Italian forces are massing on the Greek border not far from Metsovo. Yiannis, her sister's husband, will soon leave his wife and little daughter to serve as a physician for the Greek army. Because of their celebrated strength, the young women of Metsovo will be recruited to carry supplies to the army's winter encampment. Maria wants to take part, but her father forbids it. Her defiance triggers a story filled with as much heroism and heartbreak as any story of soldiers in battle. When Yiannis and his fellow soldiers shift from fighting Italians and Germans to fighting fellow Greeks intent on bringing in a Communist government, the novel minimizes politics to emphasize the scant difference between one ravaging army and another.
Romanus writes with a simplicity and directness of style that suggests a villager's voice. Chrysalis tends to keep readers at a distance from Maria's emotions, labeling and describing these rather than bringing us inside her character to share what she senses and feels; if this somewhat blunts the story's emotional power, Chrysalis remains an absorbing and meaningful novel because of its deeply sympathetic heroine and the inherent suspense in a story full of harrowing dilemmas and dramatic events. (2011, 306 pages)
More about Chrysalis at Powell's Books
,
Amazon.com
or
The Book Depository
Other novels about Greek women:
The House on Paradise Street
by Sofka Zinovieff (2013), about an elderly Greek woman whose son's funeral rekindles an old family feud and memories of her experiences in Nazi-occupied Athens.
More info
Garden of Venus
by Eva Stachniak (2005, titled
Dancing with Kings
in the U.K.), about Sophie Potocka, who was born the daughter of a poor Greek peasant, became the toast of Europe as a courtesan, and eventually married a wealthy Polish count.
More info
The Double Tongue
by William Golding (1995), about a woman from Epirus who becomes a Delphic oracle. See
review
or
more info at Powell's Books
Nonfiction about Greece during World War II and the Greek Civil War:
Heroes Fight Like Greeks: The Greek Resistance Against the Axis Powers in WWII
by Ronald J. Drez (2009).
More info
The Struggle for Greece, 1941-1949
by C.M. Woodhouse (2002).
More info
Eleni
by Nicholas Gage (1983), a vivid account of a woman's heroic efforts to protect her children during the Greek Civil War, researched and written by her journalist son.
More info
Online:
The Greek Civil War Ends
, a brief article by Richard Cavendish for
History Today
summarizing the causes and results of the Greek Civil War, which ended October 16, 1949
Back to WWII Europe, the Home Front
Back to Directory of Book Reviews