A Christmas Promise
by Anne Perry
Reviewed by Annis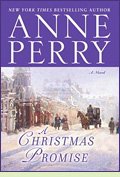 Combining a Victorian whodunit with a Christmas message, A Christmas Promise is one of a series of mystery novellas by Anne Perry published annually during the holiday season. As readers of her Pitt and Monk mysteries know, Perry has made the Victorian period her own, skillfully evoking its mindset and atmosphere.
"The week before Christmas, the smell and taste of it was in the air, a kind of excitement, an urgency about everything. Geese and rabbits hung outside butcher's shops and there were little pieces of holly on some people's doors. The streets were just as grey, the wind as hard and cold, the rain turning to sleet, but it wouldn't have seemed right if the backdrop to Christmas had been different."
It's December 1883 in the slums of East London, and thirteen-year-old Gracie Phipps is running an errand for her gran when she comes upon Minnie Maude, a mournful, skinny little girl with a garbled story about a lost donkey. Minnie Maude arouses both pity and exasperation in Gracie, who against her better judgment promises to help in the child's search. Anger, fear and lies meet the girls' questions. The missing donkey is connected with the recent death of Minnie Maude's beloved Uncle Alf and they soon realise that dark deeds are involved. Their persistence leads them into danger. Luckily, it also leads them to a champion: Mr. Balthasar, a mysterious shopkeeper as wise and exotic as the magus whose name he shares.
Don't expect Perry's usual degree of gritty reality. Although the poverty, squalor and vices of the East End are not brushed aside - even good Uncle Alf had his secrets - the moral is that faith, hope and charity can sometimes be rewarded with a happy ending. A Christmas Promise is a holiday confection, a taste of dark chocolate with a sweet centre. (2009; 152 pages)
More about A Christmas Promise at Powell's Books or Amazon.com

Other fiction with a Victorian Christmas theme:
A Christmas Journey by Anne Perry (2003; titled Journey Toward Christmas in the U.K.), #1 in Perry's Christmas mysteries series (see the full list on the 19th Century Europe page). More info
The Woman in Black by Susan Hill (1983), a ghost story about a young solicitor who travels to an isolated house on a moor to settle an estate during the Christmas season and encounters sinister, supernatural events. More info
A Christmas Carol by Charles Dickens (1843), a contemporary story when originally published, and now a holiday classic - though most people know it from revised movie versions rather than the original novella. More info

Nonfiction about Christmas in Victorian England:
The Victorian Christmas by Anna Selby (2008). More info
Dickens' Christmas: A Victorian Celebration by Simon Callow (2003). More info
Victorian Christmas: Over 30 Ideas for Enjoying a Traditional Christmas by Valerie Janitch (2001). More info

Online:
A Victorian Christmas at the Historic UK website



Back to Novels of Nineteenth Century Europe

Back to Directory of Book Reviews