Children and Fire
by Ursula Hegi
Reviewed by Margaret Donsbach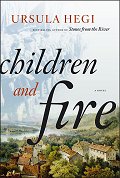 Children and Fire returns to the fictional town of Burgdorf, Germany, depicted in Hegi's masterpiece Stones from the River. Here the story is more condensed, centering on a single day in February, 1934, though supported by a tale of the main character's origins reaching back to 1899 when her mother traveled from Burgdorf to stay in a shelter for unwed mothers.
Single and childless, Thekla Jansen's passion is teaching. Under Hitler's regime, following her moral convictions as a teacher is a challenge, but she strives to master it. "Messages change, but the teaching of knowledge is sacred. Certainly school knowledge, like botany and geography; but also life knowledge, like proper manners and good posture, deep breathing and - above all - how to adapt." She glides through staff meetings without overtly opposing the Nazis. If certain long-admired poets are banned, she will teach those who are still allowed. If Hitler's mawkish verses are praised, she will subtly steer attention in a more uplifting direction. If a student reveals his father's scorn for Hitler, she protects him with a scolding. "As if 'damn' mattered one damn to me. But this is what she wants her boys to recall when they tell their group leaders or their parents about school: that their teacher scolded Bruno Stosick for saying damn - and not that Bruno's father wants the Führer strung up..."
By day's end, events will careen out of Thekla's control, and a self-serving choice she once made will be laid bare for readers. Was it justified? Regardless, can she redeem herself? Children and Fire is a wrenching novel that shows how difficult it could be for an ordinary good person to navigate the Nazi era. "Until now she had taken for granted that she had moral courage, but suddenly she didn't know if it was possible to defer moral courage, conserve it, and if it would still be there for her..." (2011; 272 pages)
More about Children and Fire at Powell's Books or Amazon.com

Other novels set in Nazi Germany:
Stones from the River by Ursula Hegi (1994), about a girl who is a dwarf growing up in Nazi Germany, the first of Hegi's novels to be set in the fictional town of Bergdorf. More info
Those Who Save Us by Jenna Blum (2005), about a woman who has kept her memories of life in Berlin in the aftermath of World War II secret from her American husband and daughter. See review or more info at Powell's Books
Saints and Villains by Denise Giardina (1998), about Dietrich Bonhoeffer, the German theologian killed by the Nazis after becoming involved in a failed plot to assassinate Hitler. More info

Nonfiction about the Nazi youth group Hitlerjugend:
Hitler's Children by Guido Knopp (2002), about the indoctrination of children in Nazi Germany. More info
Hitler Youth by Michael H. Kater (2004), a historical study of the Nazi youth program. More info
Hitler Youth: Growing Up in Hitler's Shadow by Susan Campbell Bartoletti (1980), for young readers, about the Hitlerjungend organization. More info

Online:
Hitler addressing the Hitlerjungend, an excerpt from the propagandistic 1934 documentary "Triumph of the Will"



Back to 20th Century: Nazi Germany

Back to Directory of Book Reviews