The Chef's Secret
by Crystal King
Reviewed by Margaret Tomlinson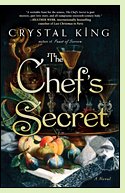 In The Chef's Secret, the assistant to a head chef for the Vatican begins uncovering layer after layer of secrets after the chef's death in 1577. Bartolomeo Scappi was a real person who served as the personal chef for popes Pius IV and Pius V. He authored a cookbook, L'Opera di Bartolomeo Scappi (or Opera dell'arte del cucinare), which he dedicated to his nephew and apprentice, Giovanni Brioschi. Not a great deal more is known about his life, and the novel takes advantage of the large stretches of mystery to spin an eventful if far-fetched tale of passion, danger and wicked deeds.

Giovanni is grief-stricken when his beloved uncle dies after a sudden, brief illness. A papal steward brings him a strongbox and tells him that Bartolomeo believed its contents, a journal and some letters, to be so dangerous that he wanted Giovanni to burn them without reading them. Of course, the prohibition makes its violation irresistible.

The narration moves back and forth between Giovanni's discoveries and Bartolomeo's life in and out of the Vatican kitchens. Giovanni woos a young widow, an amorous undertaking somewhat less daring than Bartolomeo's. And both men exercise their culinary skills. Especially memorable is a crostata dessert, a fruit tart made of sour cherries blended "with sugar, cinnamon, and Neapolitan mostaccioli crumbs," overlaid with a "sheet of pastry cut into a rose petal pattern," through which the "cherries bubbled red." Yum.

The characters don't always behave with complete plausibility for the time period―whether violating or obeying its norms―so readers who are sticklers for historical or psychological authenticity may have trouble staying fully immersed. More tolerant readers will enjoy the way the plot races along, full of surprising twists and turns and revelations. Those who love to cook will find plenty of inspiration in The Chef's Secret. (2019; 336 pages, including an Author's Note on the history behind the novel)
More about The Chef's Secret at Powell's Books
or
The Book Depository
Other novels about chefs:
The Book of Unholy Mischief
by Elle Newmark (2008), about a fifteenth-century Venetian street urchin who lucks into a position as apprentice to a chef in the doge's palace. See
review
or
more info at Amazon.com
.
The Pasha of Cuisine
by Saygin Ersin (2018), about an exceptionally talented chef who, after his beloved is sold into the imperial harem, plots to rescue her even if he must bring down the Ottoman Empire to do so.
More info
The Stars Dispose
by Michaela Roessner (1997), historical fantasy about a young chef and an astrologer in the childhood household of Catherine de Medici.
More info
Nonfiction about Italian cuisine in and out of the Vatican:
The Opera of Bartolomeo Scappi
, English translation by Terence Scully (2008).
More info
The Vatican Cookbook: 500 Years of Classic Recipes, Papal Tributes and Exclusive Images of Life and Art at the Vatican
by David Geisser, Erwin Niederberger and Thomas Kelly (2016).
More info
Tastes and Temptations: Food and Art in Renaissance Italy
by John Varriano (2009).
More info
Online:
Sour Cherry Crostata recipe
at Ruth Reichl's website
16 Insanely Intricate Pie Crusts That are (Almost) Too Pretty to Eat
Back to Novels of the Renaissance
Back to Directory of Book Reviews