Charlotte and Emily
by Jude Morgan
Reviewed by Margaret Donsbach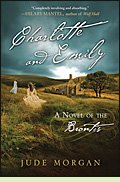 Charlotte and Emily is a remarkable novel about a remarkable, death-haunted family presided over by a commonplace patriarch, a narcissistic and not particularly gifted country curate. It opens in 1821 with Maria Branwell Brontë, the mother of Maria, Elizabeth, Charlotte, Branwell, Emily and Anne Brontë, on her deathbed crying prophetically, "Oh, my children. Oh, God, my poor children."
Their father sends the eldest girls to the boarding school Charlotte memorably evokes in Jane Eyre. The atmosphere of perpetual rebuke and humiliation no less than the damp, the cold and the stomach-turning, inadequate food lead to the deaths of Maria and Elizabeth. Reunited in the parsonage, austere but at least not deadly, the four remaining children burrow into the warmth of each others' company, retreating into a fantasy world inspired by Branwell's toy soldiers and recorded in Charlotte's miniscule hand-printing, too small for adult eyes. This relative paradise doesn't last. Branwell, the only son, must be set up in a profession. To pay for his training, the girls, considered unmarriagable because undowered, must work as governesses.
If not for the girls' indomitable spirits, the tale might be too depressing. But as water finds a way downhill, through underground crannies and crevices if it must, they find routes to self-expression. Their imaginations and their precision of language have been honed by childhood fantasies they find difficult to relinquish after coming of age. They begin to write poetry and novels.
The language in Charlotte and Emily is measured but impassioned, restrained but vivid - not unlike the writing of the Brontës themselves. And though Jane Eyre and Wuthering Heights are great novels, they are not autobiography. Here, the Brontë sisters are portrayed more intimately than they could have portrayed themselves, and more compassionately. Highly recommended for anyone who enjoyed Jane Eyre or another Brontë novel. (2010; 373 pages)
See listing for Charlotte and Emily at Powell's Books or Amazon.com

Novels by the Brontë sisters:
Jane Eyre by Charlotte Brontë (1847). More info
Shirley by Charlotte Brontë (1849), historical novel set in 1811-1812.
More info
Villette by Charlotte Brontë (1853). More info
The Professor by Charlotte Brontë (1857). More info
Wuthering Heights by Emily Brontë (1847). More info
Agnes Grey by Anne Brontë (1847). More info
The Tenant of Wildfell Hall by Anne Brontë (1848). More info

Nonfiction about the Brontës:
The Brontës by Juliet Barker (1995). More info
Charlotte Brontë and her Family by Rebecca Fraser (1988). More info
The Brontës at Haworth by Ann Dinsdale and photographer Simon Warner (2006). More info

At the Movies:
Jane Eyre
, the 2006 Masterpiece Theatre adaptation of Charlotte Brontë's classic novel starring Ruth Wilson and Toby Stephens, directed by Susanna White.
Wuthering Heights
, the 1998 Masterpiece Theatre adaptation of Emily Brontë's classic novel starring Orla Brady and Robert Cavanah, directed by David Skynner.
The Tenant of Wildfell Hall
, the 1997 BBC adaptation of Anne Brontë's classic novel starring Rupert Graves, Toby Stephens and Tara Fitzgerald, directed by Mike Barker.

Online:
The Brontë Society website at the Brontë Parsonage Museum at Haworth in Yorkshire, England



Back to Novels of Nineteenth Century Europe

Back to Directory of Book Reviews