Chains
by Laurie Halse Anderson
Reviewed by Margaret Donsbach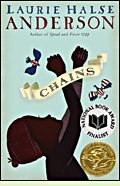 Chains is about a thirteen-year-old slave girl in New York at the time of the American Revolution. Determined and responsible Isabel is a caring older sister to five-year-old Ruth, who is sweet but simple-minded and needs protection. Their parents are already dead, and when their owner dies, they are powerless to enforce the provision in her will that was supposed to free them. Instead, they are sold to a selfish, hot-tempered new mistress who is loyal to the English Crown.
The day they arrive in New York, a Revolutionary official's slave encourages Isabel to become a spy and report conversations she hears in her mistress's home. The Patriots can help her, he says, "maybe, help you find that lawyer and his papers." To Isabel, the idea sounds foolhardy. She doesn't believe her mistress's family will say anything in front of her, anyway. "You are a slave," the boy tells her, "not a person. They'll say things in front of you they won't say in front of the white servants. 'Cause you don't count to them."
The characters are vividly real and the suspense never lets up. Not every white person Isabel meets is cruel, but even those who treat her kindly and seem to mean well disappoint her when she desperately needs their help. Terrible things happen. (Some of the violence may be too intense for younger readers.) At times Isabel falls into despair, but she has too much character and spirit to lose hope for long. While readers are rooting for her to hang on until she can escape, they will learn a lot of interesting things about what it was like to live in New York during the Revolutionary War.
(2008; 316 pages including an appendix discussing the history behind the novel; recommended for ages 10 and up; 2009 Scott O'Dell Award, ALA Best Books for Young Adults pick)
More about Chains at Powell's Books or Amazon.com

Other novels about slavery during the American Revolution:
The Astonishing Life of Octavian Nothing, Traitor to the Nation, Volume 1: The Pox Party by M.T. Anderson, (2006), about a slave boy raised in an eccentric American scientific institution during the years leading up to the Revolution. See Review or More info at Powell's Books
Taking Liberty by Ann Rinaldi (2002), about a slave girl who works as a house servant for George and Martha Washington. More info
1776: Son of Liberty by Elizabeth Massie (2000), about a free black teen with friends who are slaves. More info

Nonfiction about growing up as a slave:
Growing Up in Slavery: Stories of Young Slaves as Told By Themselves, edited by Yuval Taylor (2005), first person accounts by ten African Americans about what it was like to be a child slave. More info
If You Lived When There Was Slavery in America by Anne Kamma and Pamela Johnson (2004), answers questions about slavery in America for children aged 19-12. More info

Online:
Slavery in Colonial America at the Colonial Williamsburg website



Back to Young Adult Novels: Eighteenth Century

Back to Directory of Book Reviews