Cézanne's Quarry
by Barbara Corrado Pope
Reviewed by Margaret Donsbach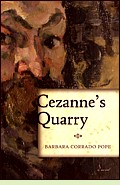 Cézanne's Quarry is a murder mystery spun around the love affair French artist Paul Cézanne is supposed to have had with a mysterious woman in Provence in the 1880s. Several of his artworks feature in the plot, including a nightmarish early painting depicting a woman being strangled.
The murder victim in Cézanne's Quarry is beautiful Solange Vernet, a woman interested in Darwin's theories who, along with her English lover Charles Westerbury, has been hosting an intellectual salon in Aix-en-Provence. Her corpse is found in a quarry: "Her hair, unbound, shining under the rays of a merciless setting sun, looked like it had burst into flames. That magificent golden-red hair, which he had always seen pinned up, rising gracefully from her long, white neck." Through the memories of several other characters, readers come to understand and sympathize with the unconventional Vernet long before the full truth about her is revealed.
The chief suspects are the love-struck Cézanne and Westerbury, whose noisy quarrel with Vernet over the artist does not remain secret for long. The judge responsible for uncovering the truth, intelligent but inexperienced Bernard Martin, has been left in charge in Aix while the others vacation during the August heat. It's his misfortune to supervise the supremely confident police inspector Albert Franc, "a man known as much for his toughness as for his disregard of the finer points of criminal procedure." Martin struggles to maintain his nominal authority over Franc, whose insolence, perpetually teetering on the verge of defiance, is almost as appalling as his eagerness to exercise his skill in "questioning" prisoners.
Cézanne's Quarry is an insightful, psychologically astute debut novel, though it could have benefited from editing: the rather deliberate pacing gives readers a lot of time in which to sniff out the culprit. The solution to the mystery is clever, though, and for readers who don't guess it too soon, should come as a satisfying surprise. (2009; 368 pages, including a Postscript listing historical events that took place after the novel's close and fictional characters)
More about Cézanne's Quarry at Powell's Books or Amazon.com
Interview with author Barbara Corrado Pope
Cézanne's Quarry is one of the five mysteries on my "Best Historical Novels I Read in 2009" list.

Other mysteries featuring artists:
The Empty Mirror by J. Sydney Jones (2009), in which the nineteenth-century Viennese artist Gustav Klimt is suspected of murdering a woman who modeled for him. More info
In the Kingdom of Mists by Jane Jakeman (2002), in which the French impressionist painter Claude Monet becomes involved in a murder mystery when he goes to London to paint the Thames. More info
The Serpent in the Garden by Janet Gleeson (2005), in which a fictional eighteenth-century portrait painter must solve a mystery revolving around a couple whose wedding portrait he painted. More info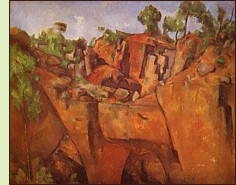 Nonfiction about Paul Cézanne:
Cézanne in Provence by Philip Conisbee et al. (2005). More info
Cézanne and Provence: The Painter in His Culture by Nina Maria Athanassoglou-Kallmyer (2003). More info
Cézanne: A Biography by John Rewald (1986). More info

At the Movies:
Cezanne in Provence
, a 2006 documentary from PBS about Cézanne's life and art.

Online:
Virtual Museum of Cézanne's artworks, plus a biography and other features



Back to Historical Novels: 19th Century Europe

Back to Directory of Book Reviews