Carola Dunn Interview
September 17, 2009
HistoricalNovels.info interviews
the author of Sheer Folly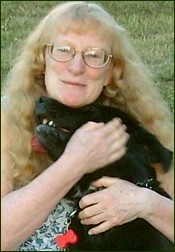 It was great to have Carola Dunn visit the blog on September 17, 2009, to talk about her newest Daisy Dalrymple mystery, Sheer Folly. Daisy, an up-to-date woman of the 1920s, has cast off aristocratic constraints to wed a Scotland Yard inspector and consequently or coincidentally finds herself in the midst of numerous mysteries - 18 to date!

The fictional grotto Daisy visits is amazing. Were you inspired by a real grotto?
Two: the grottoes at Stourhead Gardens and Stowe Gardens.
Daisy and Lucy talk about doing a book on follies in A Mourning Wedding. The title Sheer Folly came to me in a flash of sheer inspiration, so I decided it was time they got on with it. A grotto seemed to me the most interesting kind of folly to murder someone in. After that, I designed it to suit the needs of the story.

Do you ever feel qualms about killing off a character?
My characters are virtually never based on real people (Sid, the beachcomber in Fall of a Philanderer, is based on someone I knew from childhood seaside holidays, who's undoubtedly long gone by now), and I don't kill Daisy's friends and relatives, so ... no! Though I am considering doing in her cousin's wife, the present Lady Dalrymple (see Damsel in Distress) one of these days. Eminently worthy of being bumped off, I feel, as are most of my victims.
When I wrote my "dead dentist" book, Die Laughing, I was talking to my dentist of the time about it and she asked me nervously, "Is it a female dentist called Terri?" I reassured her, but dedicated the book to her just in case... She bought copies for everyone in her office, and she's still my dentist. :-)

There aren't too many mystery series that stretch to 18 novels! Did you ever think you would write that many?
I started the Daisy series with the idea of never having to think up a title again. They were going to be Death in January, Death in February, Death in March... with each murder connected with the month (Death at Wentwater Court has a body in a frozen lake, for instance). So I had some slight hope of stretching it to 12 books. Luckily my editor didn't buy that idea, or I'd have run out of months long ago! Now I'm about to start work on the 19th.

Does your dog Trillian ever help with your research?
Trillian hasn't had much time to help me, as she only adopted me last month. But certainly living with dogs for most of my life has helped. Teazle, the Westie in Manna from Hades, is based on my mother's last dog, Candy.


---


Review of Sheer Folly by Carola Dunn
See listing for Sheer Folly at Powell's Books
See listing for Sheer Folly at Amazon.com