C.M. Mayo Interview
October 20, 2010
HistoricalNovels.info interviews
the author of The Last Prince of the Mexican Empire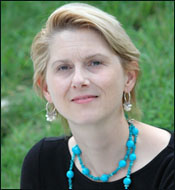 Our blog guest on October 20, 2010, was C.M. Mayo, author of The Last Prince of the Mexican Empire. Her novel is about Alice and Angel de Iturbide and their small son, considered the Mexican heir, during the very odd reign of Emperor Maximilian and Empress Carlota of Mexico. Welcome, C.M.!

Like the nineteenth-century American belle Alice Green, you married a Mexican. Did you find yourself identifying with Alice in any way as you wrote about her?
Not identifying, precisely--our sensibilities and circumstances are quite different--but certainly, this gave me confidence in writing about her. Two key things would have been difficult to appreciate, I think, without having shared this: first, the hard-won achievement it truly is to adapt to a new country; and second; her vulnerability. In the mid-nineteenth century, in Mexico City, she was nearly completely cut off from her own family and girlhood friends. This, of course, had devastating consequences for Alice.

As you researched the novel, did you come across any particularly striking inaccuracies or misconceptions in the historical record?
Many. The biggest misconception is that Maximilian and Carlota "adopted" the little boy as their son. In fact--I talk about this at length in the "reader's guide" (on my website)--they took him and his cousin, Salvador, the two grandsons of Mexico's first emperor, but not as their own children; rather, as a species of cousin to "educate" them. They very specifically gave instructions to their master of ceremonies to consider the Iturbides as the Murat Princes--those were cousins of Louis Napoleon. It was a strange arrangement, yes, and many people, including Carlota's own grandmother and her first cousin, Queen Victoria, were perplexed. Agustin appeared to be Maximilian's heir apparent--but was he? It really was a peculiar arrangement.

Do you think Agustin de Iturbide suffered any lasting psychological effects as the result of being taken away from his parents into the imperial household of Maximilian and Carlota?
No, actually, I don't. First, he was so young--only two and a half--and had already been close to his godmother and aunt, Josefa (Pepa) de Iturbide. It was she--not Carlota--who was his "co-tutor" along with Maximilian, so he would have remained very close to her. Also, Maximilian and Carlota were often away traveling. My guess, though, is that he would have suffered quite a fright at the beginning, and then again at the end, when he was separated from Josefa. My impression of him as a young adult is that he was an excellent student and a good person, but of course, because of his name and his association with Maximilian, other people treated him with excess deference or unjust disdain, which must have been confusing and even dangerous for him.


---


Review of The Last Prince of the Mexican Empire by C.M. Mayo
See listing for The Last Prince of the Mexican Empire at Powell's Books
See listing for The Last Prince of the Mexican Empire at Amazon.com