Bring Up the Bodies
by Hilary Mantel
Reviewed by Margaret Donsbach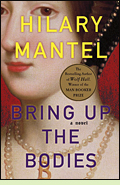 Bring Up the Bodies continues the story of Thomas Cromwell so brilliantly begun in Wolf Hall. It would be unfair to expect a sequel as startlingly fresh as the novel it follows when it was that novel which shattered readers' preconceptions. But there is freshness here, too, as Cromwell's politically shrewd, deeply subjective character continues to offer a new perspective on a historical period that, until Mantel, one might have thought novelists had plumbed dry.
Cromwell has achieved what seemed unachievable. The stubborn, not-so-saintly Thomas More is dead. Anne Boleyn is Henry's queen, made irritable by the price of her success, blinded enough by that success to assume Henry remains besotted with her even as he yearns after a woman who appears to be Anne's opposite. Jane Seymour "is like a flower, head drooping, modest as a drift of green-white hellebore. In her brother's house, the king had praised her to her family's face: 'A tender, modest, shame-faced maid, such as few be in our day.'" She might not, however, be quite as unlike Anne as she seems.
Other circumstances than the king's shifting fancy erode the ground under Anne: Henry's subjects dislike her; she has been a diplomatic stumbling block for the Spanish since the Spanish Katherine was deposed; her series of miscarriages hint at Heaven's wrath. Cromwell, who paved the way for Anne, can see the king wants a new way paved for little Jane, but the threats and deaths and twistings of fact that raised Anne make her hard to topple. And if God frowns on this second wife, how will he smile on a new one while the queen-that-was lives? Then Katherine, whom Anne has so heartily wished dead, dies.
Wolf Hall vividly evoked Cromwell's grief for the executed and mocked Cardinal Wolsey. In Bring Up the Bodies, the trap Cromwell must lay for Anne allows him to pursue a vengeance which the previous novel's sympathetic portrayal of him makes all the more chilling. (2012; 407 pages, plus an Author's Note separating fact from fiction)
More about Bring Up the Bodies at Powell's Books, Amazon.com
, or The Book Depository

Other novels featuring Anne Boleyn and Jane Seymour:
Wolf Hall by Hilary Mantel (2009). More info
Pour the Dark Wine by Dinah Lampitt (1989), about the rise and fall of the Seymour family. More info
The Queen's Governess by Karen Harper (2010), about Katherine Ashley, whom Cromwell hired as a spy and lady-in-waiting to Anne Boleyn, and who became governess to Anne's daughter Elizabeth. More info

Nonfiction about Thomas Cromwell and Jane Seymour:
Reform and Renewal: Thomas Cromwell and the Common Weal by Geoffrey R. Elton (1973), a respectful look at Cromwell as an intellectual and religious reformer. More info
Thomas Cromwell: The Rise and Fall of Henry VIII's Most Notorious Minister by Robert Hutchinson (2009), presents Cromwell in a typically negative light. More info
Jane Seymour, Henry VIII's True Love by Elizabeth Norton (2009). More info

Online:
Jane Seymour at the Tudor Monarchs website.



Back to Novels of the Renaissance

Back to Directory of Book Reviews