The Bridge on the Drina

by Ivo Andrić
Reviewed by Margaret Donsbach Tomlinson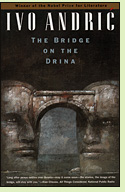 The bridge on the Drina River which gives this novel its title really exists, as does the town of Višegrad which grew up around the bridge after its construction began in 1571. The novel covers almost 350 years of the town's history, from the building of the bridge to World War I. Located on the border between Bosnia and Serbia where a major road connected the Bosnian city of Sarajevo in the west with Istanbul in the east by way of the Serbian city Niš, Višegrad was an obvious site for a bridge during the heyday of the Ottoman Empire, which stretched westward beyond Sarajevo to swallow much of Croatia. Višegrad was home to Bosnians, Serbs and Turks, and to Jews, Christians and Muslims. The simmering ethnic ethnic and religious conflicts among these people were normally submerged to their need, in a small village, to get along with each other and with the travelers who passed through and contributed to the town's economic life. World War I, sparked by a Serb's assassination of an Austrian archduke, brought these conflicts into the open.
Andrić published The Bridge on the Drina shortly after a second World War tore Europe apart. Many of Višegrad's Jews were sent to concentration camps by occupying German forces in 1944. Andrić, who died in 1975, did not live to see the Bosnian War and the 1992 massacre of Višegrad's Bosniaks on the Drina Bridge, but the novel's ending seems to anticipate it. The bridge, central to the town's life in good times and bad, ties together the stories of the villagers. Here are tales of brutal oppression, fatal misunderstandings, narrow escapes, weak husbands, rebellious daughters, merry widows, young love, political idealism, and the stubbornness and disillusionments of age. Tragedy mingles with comedy, irony, sweetness, and a sympathetic, if often disappointed, understanding of human nature. Andrić won the Nobel Prize for Literature in 1961. (1945, 314 pages in the 1977 University of Chicago edition in English translation)
More about The Bridge on the Drina at Powell's Books
,
Amazon.com
or
The Book Depository
Other novels set in Eastern Europe:
Bosnian Chronicle
by Ivo Andric (1945), about a small town in Bosnia where representatives of the great powers hold negotiations during the Napoleonic Wars.
More info
The Siege
by Ismael Kadare (1970), a literary novel about a Christian citadel in fifteenth century Albania and its defiance of the army of the Ottoman Turks and their inevitable conquest.
More info
The Balkan Trilogy
by Olivia Manning (1960), about a couple who, on the eve of World War II, are newly and living in the English colony in Bucharest, Romania, and their experiences during the war.
More info
Nonfiction about the history of Bosnia:
Bosnia: A Short History
by Noel Malcolm (1994).
More info
Bosnia: A Cultural History
by Ivan Lovrenovik (2001).
More info
Online:
Mehmed Paša Sokolović Bridge in Višegrad
at the UNESCO World Heritage List website
Back to Novels of the Renaissance
Back to Directory of Book Reviews