The Bride of Newgate
by John Dickson Carr
Reviewed by Margaret Donsbach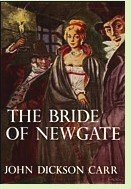 The bride of Newgate Prison is a woman who declares she wants no part of marriage. Her late grandfather, however, has left her a fortune on the condition that she marry by her twenty-fifth birthday. To inherit his wealth while retaining her freedom, she decides to marry a man sentenced to hang for murder and lodged, meanwhile, in a squalid cell. "A dark stubble of beard marred his dirty face, and mingled with long greasy hair. His clothes were a scarecrow's amid straw." Appearances, however, can be deceiving.
John Dickson Carr was a popular author of contemporary "locked room" mysteries as well as a historical swashbuckler during the 1930s and 1940s. In 1950, he combined the two genres, writing one of the earliest historical mystery novels, The Bride of Newgate. (Agatha Christie's Death Comes as the End, set in ancient Egypt, appeared six years earlier in 1944, and Lillian de la Torre's Samuel Johnson short story collections also appeared in the 1940s.)
Set in the year of the British triumph at Waterloo, The Bride of Newgate is full of juicy historical detail and features a mysterious room which, except for the corpse pinned to a desk chair with a rapier, appears clean and well appointed one day, and on the next, when the prisoner's baffled (and alcoholic) lawyer goes to check his story, is overlaid with two years' worth of dust and cobwebs. The Dickensian setting features a ghostly carriage, plenty of dueling, leaps from balconies, a lady in her bath, and a love triangle.
One of the novel's chief delights is its spirited, mildly salty dialogue: "'She's a-showing a lot of buzzim in her gown, and fanning herself fit to break the fan.... But 'er potato-trap ... I begs your pardon, Reverence! ... 'er mouth's locked up like a moneylender's cashbox.'" Carr researched the language of the time by studying early nineteenth century pamphlets containing testimony from criminal trials. As he says in an afterword, "A man on trial, usually for his life, puts on no airs. Educated or uneducated, his language is real." (1950; 308 pages, including an afterword separating history from fiction)
More about The Bride of Newgate at Amazon.com

Other early historical mysteries:
Death Comes as the End by Agatha Christie (1944). More info
Dr. Sam Johnson, Detector: Being, A Light-Hearted Collection of Recently Reveal'd Episodes in the Career of the Great Lexicographer by Lillian de la Torre (1946), a short story collection featuring Samuel Johnson, the eighteenth century compiler of the first comprehensive dictionary of the English language, as a detective. More info

Other historical mysteries by John Dickson Carr:
Fire, Burn! (1957), about the first British police force, Sir Robert Peel's "Peelers" and their investigation of a murder in 1829. More info
The Scandal at High Chimneys (1959), about a ghostly apparition and a murder in a London mansion in 1865. More info
The Hungry Goblin (1972), set in 1869 and featuring novelist Wilkie Collins as the detective. More info

Nonfiction about Newgate Prison and dueling in nineteenth century England:
The Gaol: The Story of Newgate, London's Most Notorious Prison by Kelly Grovier (2008). More info
The Duel: A History by Robert Baldick (1965). More info
Gentlemen's Blood: A History of Dueling by Barbara Holland (2004).
More info
Pistols at Dawn: A History of Duelling by Richard Hopton (2007). More info

Online:

Life Inside Newgate Prison at the BBC website

Duels and Dueling on the Web



Back to Historical Novels: 19th Century Europe

Back to Directory of Book Reviews