Brendan
by Morgan Llywelyn
Reviewed by Margaret Donsbach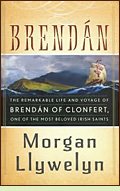 Brendan was an Irish abbot who lived in the late fifth and early sixth centuries. Twelfth-century accounts of his life describe a seven-year voyage he made with some of his monks in search of the Isle of the Blessed, or Paradise, encountering such marvels as a fire-spitting volcano, a whale, and a gigantic silver pillar (perhaps an iceberg), before reaching their destination and returning to Ireland. In 1976, author Tim Severin sailed from Ireland to Newfoundland in an ox-hide-covered curragh similar to those of Brendan's time, demonstrating that such a voyage was possible.
Layers of story weave through an impressionistic, poetic novel. The main narrative, covering Brendan's life from childhood to old age, is written in third-person and occasionally dips into other points of view. Brendan's first-person memories of his Atlantic journey appear in boldface. "In the Western Sea we encountered a fish that looked like a woman. She swam for almost half a league beside our boat, her pale flesh glimmering up at us through the dark water." In the third-person narrative, Brendan sometimes tells his memories to birds in the style of St. Francis or dips quill into ink to write in his journal. "Morning light streamed through the windows of the scriptorium, buttering the flagstones of the floor. Brendán wrote, 'In my fifth year at Cill Íde ..." Italicized passages offer his first-person reflections. "Someone was always telling me, 'That's all you need to know.' But I wanted to know everything."
A loose storyline follows Brendan's growing insights about the nature of God and life. His teacher, a former druid, rejects paganism with horror, but the irrepressibly curious Brendan comes to recognize the wisdom of St. Patrick, who "encouraged the two religions to flow together as two streams run into one river." Beautiful Celtic knotwork designs decorate the novel's pages. It's a shame that sloppy proofreading mars some of the poetic prose.* (2010; 302 pages, plus a brief Historical Note)
*I read the hardcover edition with a dustjacket that shows an accent over the "a" in "Brendán;" another hardcover edition without the accent exists, and it's possible that edition was more thoroughly proofread and contains fewer typographical errors.
More about Brendan at Powell's Books or Amazon.com

Other novels set in early Christian Ireland:
Confessions of a Pagan Nun by Kate Horsley (2001), about a woman who studied to become a druid but later joins a Christian convent. See review or more info at Powell's Books
I Am of Irelaunde by Juliene Osborne-McKnight (2000), historical fantasy about an encounter between the former Roman slave who would become St. Patrick and the legendary Irish bard Osian. More info
Brigid of Ireland by Cindy Thomson (2006), about a fifth century Irish woman's conversion to Christianity. More info

Nonfiction about Brendan's voyage:
The Brendan Voyage by Tim Severin (1978), about a transatlantic voyage in a boat similar to the one Brendan and his monks might have sailed. More info
The Voyage of Saint Brendan by an anonymous author (ninth century), translated from the original Latin by John J. O'Meara; the original account of Brendan's voyage, including many fantastical episodes. More info or read an 1893 translation by Denis O'Donoghue online at Mark Berry's blog
Saint Brendan and the Voyage Before Columbus by Michael McGrew (2005), a picture book for children. More info

Online:
The Voyage of Beyond the Sea, a 2001 article by Simon Young about Brendan's voyage