The Botticelli Secret
by Marina Fiorato
Reviewed by Margaret Donsbach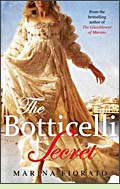 The heroine of The Botticelli Secret is young Chi-Chi, a free-spirited, irreverent, salty-tongued, and intellectually curious whore of Renaissance Florence. Recruited to pose for the central figure of Flora in Botticelli's Primavera, she is in a bit of a pique afterward as she puts her clothes back on behind a screen. When she discovers the cartone, the small-scale preliminary painting Botticelli worked from to create the larger final masterpiece, she grabs it, almost as enchanted as she is piqued, and stuffs it down her bodice to take it home with her.
All hell breaks loose. Rooms are rifled. Throats are cut. The only place she can think of to find sanctuary is with Brother Guido, an idealistic young novice monk she encountered and teased mercilessly on her way to Botticelli's studio. God-smitten though he is, his intellectual curiosity matches hers, and the two of them set off on a merry chase to unlock the puzzle of the painting.
Will they discover the meaning of each of the eight adult figures in the Primavera? Can they escape the ruthless assassin on their trail? Will Chi-Chi finally entice Guido into the sack with her? I won't tell. Readers will want to bookmark the small reproduction of the Primavera at the beginning of the first chapter so they can refer back to it as the complicated puzzle unwinds.
Don't expect a perfectly polished reflection of Renaissance Italy, although a host of interesting factual tidbits spice up the madcap adventure (along with an anachronism or two). The characters' behavior is exaggerated for comedic effect, and readers will enjoy The Botticelli Secret best if they suspend disbelief and simply go along for the ride. Along with the carnage-laced marshmallow fluff, a few human and spiritual truths are stirred into the mix as well. (2010; 517 pages, including an Author's Note on sources for symbolism in the Primavera)
More about The Botticelli Secret at Powell's Books or Amazon.com
Interview with author Marina Fiorato

Other novels set in Lorenzo de Medici's Florence: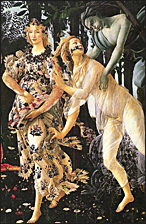 A Tabernacle for the Sun by Linda Proud (2005). Review or more info
I, Mona Lisa by Jeanne Kalogridis (2006; titled Painting Mona Lisa in the U.K.). More info

Nonfiction about Sandro Botticelli:
Botticelli by Frank Zöllner (2007). More info
Botticelli by Susan Legouix (2005). More info
Botticelli by Barbara Deimling (2000). More info

Online:
A Botticelli gallery at SandroBotticelli.net



Back to Novels of the Renaissance

Back to Directory of Book Reviews