The Borgia Betrayal
by Sara Poole
Reviewed by Margaret Donsbach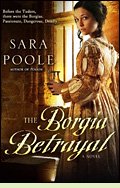 The Borgia Betrayal is the second in a mystery series featuring Francesca Giordano, a fictional poisoner employed by Rodrigo Borgia. Now Pope Alexander VI, Borgia instructs Francesca to find a discreet way of dispatching Cardinal della Rovere, his rival for the papacy. Meanwhile, Francesca's nemesis, the mad, choirboy-beautiful priest Bernardo Morozzi, who killed her father, is still at large. Though Francesca feels troubled by the "darkness within" which allows her to enjoy killing, she is determined to avenge her father's death.
With France threatening war, Borgia needs Spain's help to keep the French at bay. The Spanish, though, are pressuring him to break his alliance with the Sforzas of Milan. They also want him to expel the Jews from Rome, a people he finds indispensable for their value as scapegoats. "If the Jews didn't exist, we would have to invent them." On top of everything, the fanatical monk Savonarola and his followers may have arrived in Rome. Though neither Francesca nor Borgia can tell whether della Rovere is using Savonarola or Savonarola is using della Rovere, both are potentially deadly threats.
In love with a widowed glassmaker, Francesca has refused his offer of marriage. The darkness inside her, she feels, would only drag him down. She finds a kindred spirit, though, in Borgia's lusty son Cesare, whose amoral attentions she relishes. Believing herself too flawed for friendship, she seems not to realize how many dear friends she does have, particularly her fellow members of Lux, a secret society dedicated to learning. That Lux means "light" may have special significance for Francesca's dark side; readers can doubtless expect more unraveling of her personal mysteries as the series continues.
A complex tapestry of a novel, The Borgia Betrayal may be a bit too complex for readers looking for a brisk story, although it lacks the depth of a literary novel. Readers who enjoy something in between, with a frisson of bloodlust and a dash of hot sex, should find it satisfying. (2011; 389 pages, plus extra features including a Historical Timeline and Recommended Reading)
More about The Borgia Betrayal at Powell's Books or Amazon.com
Interview with author Sara Poole

Other mysteries and thrillers revolving around the Borgias:
Poison by Sara Poole (2010), #1 in the Francesca Giordano series. See review or more info at Powell's Books.
The Swarm of Heaven by Derek Wilson (1999), a mystery featuring Niccolo Machiavelli on a secret mission for Borgia. More info
Lucrezia Borgia and the Mother of Poisons by Roberta Gellis (2003), a mystery featuring Lucrezia Borgia as sleuth. More info

Nonfiction about the Borgias:
Cesare Borgia: His Life and Times by Sarah Bradford (2001). More info
Lucrezia Borgia: Life, Love and Death in Renaissance Italy by Sarah Bradford (2004). More info
The Borgias by Alexandre Dumas (1839), an unreliable but juicy dishing of dirt and scandal by the author of The Three Musketeers. More info at Amazon.com
or read free online at FullBooks.com

Online:
Cesare Borgia at Wikipedia



Back to Novels of the Renaissance

Back to Directory of Book Reviews