The Book of the Maidservant
by Rebecca Barnhouse
Reviewed by Margaret Donsbach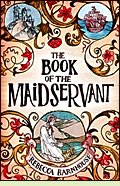 The Book of the Maidservant is about a girl in fifteenth-century England who went on a pilgrimage to Rome with Dame Margery Kempe, one of history's more difficult employers. Dame Kempe felt a religious calling which she expressed by bursting into loud weeping, harshly criticizing others, and insisting God spoke to her personally. Though we don't know her maidservant's name, she really existed.
The novel is funny, touching, and suspenseful. Fourteen-year-old Johanna, responsible for hauling water, emptying chamber pots, and getting the fires started in the morning, comments, "my mistress likes to be warm and toasty while she shares Our Lady's pain."
On pilgrimage, Johanna faces separation from her friends and family, a frightening ship voyage, a cruel fellow pilgrim, more work than she ever imagined she could handle, and constant slights. "My mistress wears a broad-brimmed leather pilgrim's hat that ... keeps the rain off her head. I am not a pilgrim, just a pilgrim's maidservant, so I get no hat." She also meets people like John Mouse, a wonderfully kind and attractive young clerk. Crossing the Alps as winter approaches is a huge challenge, but less terrifying than when Dame Kempe abandons Johanna to make her way alone in a city where she doesn't understand the language.
Johanna's world is Roman Catholic, and when her triumphs and insights come at the end of the novel, they come in a form appropriate to her world. But this is not a preachy novel. Its spirit is universal and can be appreciated by readers of any religious faith or none. Adults will enjoy it, too. (2009; 232 pages, including an author's note about the history behind the story)
More about The Book of the Maidservant at Powell's Books or Amazon.com

Other novels about servant girls:
Newes from the Dead by Mary Hooper (2008), based on the true story of Anne Green, a London maidservant who was hanged in 1650, but revived just as doctors at the Oxford Medical School were about to begin dissecting her body. More info
Chains by Laurie Halse Anderson (2008), about a girl slave sold to a master loyal to England during the American Revolution, who must decide whether to become a spy for the American rebels. Review or More info from Powell's Books
The Color of Fire by Ann Rinaldi (2005), about a white indentured servant in New York who works alongside a black slave who is accused of treason and sentenced to death after a series of fires break out. More info

Nonfiction about Margery Kempe and medieval pilgrimages:
The Book of Margery Kempe, Margery Kempe's unintentionally humorous autobiography. More info
Mystic and Pilgrim: The "Book" and World of Margery Kempe by Clarissa W. Atkinson (1985), written for adults, one of the sources Rebecca Barnhouse used in writing The Book of the Maidservant. More info
Life on a Medieval Pilgrimage by Don Nardo (1995), written for teens.
More info

Online:
"Margery Kempe: A Medieval Eccentric" by Isabelle de Foix



Back to Young Adult Novels: Medieval Times

Back to Directory of Book Reviews