The Book of Saladin
by Tariq Ali
Reviewed by Margaret Donsbach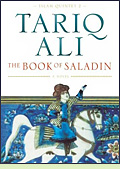 The literary style of The Book of Saladin is a blend of biographical novel, aphorism, and storytelling à la The Thousand and One Nights. It explores the life of the Kurdish Muslim warrior Salah al-Din (westernized as Saladin) who retook Jerusalem from the Crusaders in 1187. It is not primarily a war novel. Nor, having been published in 1998, does it make a post-9/11 case for better understanding Islam. Rather, it explores the philosophy and personality of Salah al-Din as imagined by British-Pakistani historian and author Tariq Ali.
The narrator is a fictional Jewish scribe from Cairo. Most scenes involve meetings between the scribe and Salah al-Din or those close to him for the purpose of recording the facts of his reign as Sultan and his plan to retake Jerusalem. A subplot involves the adventures, erotic and philosophical, of two of his fictional wives, again in the form of stories told to the scribe. One of them, expressing her religious skepticism, evidently serves as the author's mouthpiece.
The Sultan's chief personality traits are his easy-going tolerance, simple wisdom and bawdy sense of humor. A bittersweet longing for the lost Jerusalem (al-Kadisiya in Arabic), which fell to the Crusaders in 1099 before he was born, pervades his life. "The only story that really moved me as a child was that of al-Kadisiya. The cruelty of the barbarians was like a poison that makes men mute. Al-Kadisiya was never absent from our world of make-believe. We used to climb on our horses and pretend we were riding to drive the Franj out of al-Kadisya, an event which usually meant driving Shadhi out of the kitchen."
A thoughtful novel, if not suspenseful or emotionally intense, The Book of Saladin is perhaps best read a chapter or two at a time for its gentle doses of humor, philosophy and historical perspective. (1998, 367 pages, plus an explanatory note separating history from fiction)
More about The Book of Saladin from Powell's Books

Other novels in Tariq Ali's Islam Quintet, each of which can be read as a stand-alone novel:
Shadows of the Pomegranate Tree (1993), about the defeat of the Moors in Spain; #1 in the series. More info
The Stone Woman (2001), about the fall of the Ottoman Empire; #3 in the series. More info
A Sultan in Palermo (2005), about the Norman King Roger II of Sicily and his Arabic cartographer; #4 in the series. More info

Nonfiction about Saladin:
Saladin: The Sultan and His Times, 1138-1193 by Hannes Mohring (2008). More info
Saladin: Prince of Chivalry by Charles J. Rosebault (2004). More info
Saladin in Egypt by Yaacov Lev (1999). More info

Online:
Unification: Saladin and the Fall of Jerusalem, Episode 3 of "The Crusades: An Arab Perspective," a four-part TV documentary produced by Al Jazeera



Back to Historical Novels of the Middle East

Back to Directory of Book Reviews