The Book of Fires
by Jane Borodale
Reviewed by Annis


The symbolism of fire as a catalyst for change underlies The Book of Fires, set in mid-eighteenth-century England at a time of transition. As landowners in increasing numbers enclose formerly common lands, the centuries-old patterns of country life are destroyed, creating hardship for rural labourers and driving many to seek work in the towns.
One making the exodus from the Sussex Downs to London is seventeen-year-old Agnes Trussel. She travels with a carter, more fortunate than those they overtake who doggedly trudge the roads clutching children and meagre possessions. Agnes carries her secrets with her: she is unwed and pregnant; her passage is paid with stolen gold.
"Fire makes me feel good", Agnes says. It is her element. She sees the world with a visionary eye, often enraptured by the magic of some fleeting image, an observer who observes even her own actions. Lost on arrival in the squalid, bewildering city, chance leads her to the house of John Blacklock, a brusque, enigmatic firework-maker in need of an apprentice.
Agnes shows an aptitude for the art and mystery of pyrotechny. She immerses herself in her work, sharing with Blacklock a dream of creating never-before-seen fireworks in glorious colour. Homesickness haunts her nights, but as months pass she finds "the loss of home" has gone "very deep down inside, like a tiny sob at the end of a long tunnel". As her child grows within her, so does the torment of knowing her disgrace must inevitably be discovered.
The Book of Fires is notable for its characterisation, its vivid use of language and its atmosphere, particularly in describing the alchemy of fireworks: "The witchery that exists in fire escapes and fizzes down over the crowd", creating "a very pure kind of space or change inside us, which quenches a thirst for rapture that we might not even know we had." (2009; 400 pages including a bibliography)
More about The Book of Fires at Powell's Books or Amazon.com

Other novels about fireworks, gunpowder and alchemy:
The Firemaster's Mistress by Christie Dickason (2008). More info
The Alchemist's Daughter by Katherine McMahon (2006). More info
Quicksilver by Neal Stephenson (2003). More info

Nonfiction about the history of fireworks and gunpowder: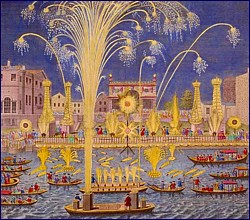 Gunpowder: Alchemy, Bombards and Pyrotechnics: The History of the Explosive that Changed the World by Jack Kelly (2005).
More info
Fireworks: A History and Celebration by George Plimpton (1984). More info
The Pirotechnia by Vannoccio Biringuccio (1540; Dover edition 2006), the first comprehensive written work in Europe on gunpowder and fireworks, written by an Italian expert in 1540.
More info

Online:
History of Fireworks at www.pyrouniverse.com
Eighteenth Century London- its daily life and hazards at CanadianContent.net



Back to Historical Novels: Eighteenth Century

Back to Directory of Book Reviews