Bonnie Dundee
by Rosemary Sutcliff
Reviewed by Annis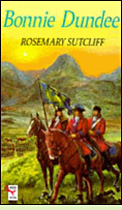 Bonnie Dundee is the tale of a gallant Scottish champion who sacrifices all in the name of honour and loyalty. The narrator of Dundee's story is a young orphan, Hugh Herriott, who leaves his grimly pious Presbyterian relatives - Covenanters who refuse to accept the Catholic King of England as head of the Church in Scotland - to serve in the King's army. His commander is Colonel John Graham of Claverhouse, Viscount Dundee, known to his Jacobite admirers as "Bonnie Dundee".
Viscount Dundee has everything: charisma, wealth, royal favour, a loving marriage. But when King James VII is deposed in favour of William of Orange, Dundee refuses to forswear his old allegiance. Setting off the first of the Scottish rebellions against England known as the Jacobite Risings, in April 1689 he calls out the Highland Clans in support of James and leads a fierce running battle against William's forces over the following months.
In Sutcliff's tale, the story of the tragic Jacobite hero Bonnie Dundee hearkens back to Celtic legends of ritual kingship: the ancient responsibility of the king to give his life for his people in times of crisis. Turning points in Dundee's life are attended by portents of mythic significance. At his wedding, an eerie light surrounds the ill-fated bridal couple. A robin's haunting lament greets the birth of their son, destined to live but a short while. And just before Dundee's final victory, the Goddess of Celtic lore appears in her dark aspect as the Washer at the Ford: a mysterious woman washing bloody clothes at a river crossing, an omen of death to come. (1983; 205 pages)
See listing for Bonnie Dundee at Powell's Books or Amazon.com

A verse from "Bonny Dundee" by Sir Walter Scott:
He waved his proud hand, the trumpets were blown,
The kettle-drums clashed and the horsemen rode on,
Till on Ravelston's cliffs and on Clermiston's lee
Died away the wild war-notes of Bonny Dundee.
See the whole poem at ClassicAuthors.net

Other novels about the Jacobite rebellions:
The Flight of the Heron by D.K. Broster (1925), #1 in the Jacobite Trilogy about a dashing young Highland chieftain during the Jacobite rebellions of 1715 and 1745. More info
Kidnapped by Robert Louis Stevenson (1886), about a seventeen-year-old boy sold into slavery in 1751 by his greedy uncle after his father dies, and his subsequent adventures during a shipwreck and in Scotland during the aftermath of the last Jacobite Rebellion. More info

Nonfiction about the Jacobite rebellions:
The Jacobites by Antony Kamm (1995; new edition 2009), a history of the Jacobite rebellions for readers aged 10 and up. More info
The Jacobite Rebellions, 1689-1745 by Michael Barthorp, illustrated by Gerry Embleton (1982), an illustrated guide to the Jacobite Rebellions for older teens and adults from Osprey Publishing. More info

Online:
"John Graham of Claverhouse, Viscount Dundee (1648-1689)" at RampantScotland.com



Back to Young Adult Novels: Seventeenth Century

Back to Directory of Book Reviews