A Bloom in Winter

by T.J. Brown

Reviewed by Margaret Donsbach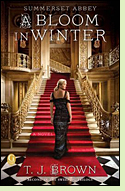 A Bloom in Winter is second in a series; readers who enjoyed the first in the series, Summerset Abbey (a not-very-veiled reference to the popular Downton Abbey television series?) will likely enjoy this one as well. Set in 1914 England, it revolves around three sisters in their late teens and early twenties whose unconventionally liberal father has died. In the previous novel, they had to adjust to life in their aunt and uncle's stuffily aristocratic household. Prudence was raised as a full sister to the others but, as their half-sister and the daughter of a maidservant, had to work as a lady's maid after their father died. Now, she has fled into marriage with a man she admires but is not sure she loves, and wonders how to manage without skills like cooking and laundering that she never learned. Rowena has fallen in love with a pilot who belongs to a family cruelly wronged by her uncle. Can they forgive her for being a Buxton? Victoria longs to follow in her father's footsteps as a botanist and is thrilled when an article she wrote is accepted for publication. But will the editor feel the same way when he discovers V. Buxton is a female?
A Bloom in Winter continues a story that, although marketed to adults, may be especially appealing to YA readers. The girls are tremendously likeable, with self-confident and democratic attitudes that would not be out of place in the twenty-first century. Their breezy modern dialogue reads easily, and their late father's broad-minded approach to rearing daughters may perhaps make it easier for readers familiar with the period to suspend disbelief. The setting offers some authentic touches, from a two-seater aeroplane named Lucy to a London slum and a grim prison, the worst of them just dangerous enough to offer suspense without plunging the characters into any truly horrifying situations. Some implied sex, but nothing explicit. (2013, 284 pages including an Author's Note about her research, plus a Readers' Group Guide)
More about A Bloom in Winter at Powell's Books
or
Amazon.com
Other novels set in Edwardian England:
Summerset Abbey
by T.J. Brown (2013), first in the series - read this one before starting
A Bloom in Winter
.
More info
Falling Angels
by Tracy Chevalier (2001), about two London families of different social classes whose daughters meet at a cemetery and become friends.
More info
Kate Hannigan
by Catherine Cookson (1950), about a Tyneside slum girl, seduced and then abandoned after she becomes pregnant, whose warmth and intelligence attracts an unhappily married physician.
More info
Snow Hall
by Elizabeth Gill (2010), about a girl living in genteel poverty who in 1907 inherits a dilapidated manor house.
More info
Nonfiction about Edwardian England:
Victorian and Edwardian Fashions from "La Mode Illustree"
by Joanne Olian (1997), a lavishly illustrated guide to fashions of the past from mourning clothes to cycling outfits.
More info
Pocket Guide to Edwardian England
by Evangeline Holland (2012).
More info
The Edwardian House Explained
by Trevor Yorke (2007).
More info
Online:
EdwardianPromenade.com
, a website devoted to the Edwardian period
Back to 20th-Century Europe Before the Wars
Back to Directory of Book Reviews