The Blood of Heaven
by Kent Wascom
Reviewed by Margaret Tomlinson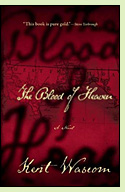 Full disclosure: I did not finish reading The Blood of Heaven. I did, however, read about 130 pages of this 453-page novel, so will offer my impressions for other readers who may be curious. Other reviewers have praised this novel (see especially the Washington Post review).

The Blood of Heaven interested me because I heard it was inspired by the Aaron Burr conspiracy. Burr was tried for treason in 1807, accused of plotting to found an independent nation in parts of the American Southwest and Mexico. The novel focuses on a previous episode, the 1804 Kemper Rebellion in west Florida (though I did not read far enough to reach the rebellion, or for Burr to play a role in the novel). 

The fictional Angel Woolsack is the son of an itinerant fire-and-brimstone preacher who forced Angel to chew on still-hot coals, a taste of hellfire. This detail, given in the Prologue, sets a tone of vivid and consistent brutality. Angel develops a talent for preaching, and he and his father are ministering to a poor settlement in Louisiana when they happen across another preacher, Deacon Kemper, and his sons. After some rough and tumble testing of each other, Angel and Samuel Kemper become fast friends. And when Angel's father comes to a violent end, the two young men set off on a journey, preaching and thieving to support themselves. 

Wascom's robust, rhythmic prose recalls the sonorous tones of the King James Bible. The setting is richly conveyed; descriptions of the settlers' dugout dwellings make them almost tangibly real. It interested me to explore how an apparently sincere set of religious beliefs, however twisted, could coexist with the overtly violent and exploitive activities these men pursued, most often without remorse. For me, though, no insights glimmered, and the relentless brutality, without any sense of striving for a goal I could in any way sympathize with, made it just too hard for me to keep reading. (2013, 457 pages including an Author's Note with a selected bibliography)
More about The Blood of Heaven at Powell's Books
or
The Book Depository
Other novels with violent protagonists:
Blood Meridian
by Cormac McCarthy (1985), about a teenaged boy who joins a group of Indian fighters who not-so-gradually evolve into a gang of murdering outlaws; widely considered to be a masterpiece.
More info
The Grass Crown
by Colleen McCullough (1991), about Sulla's rise to become dictator of Rome. (I loved this novel.) See
review
or
more info at Powell's Books
.
As Meat Loves Salt
by Maria McCann (2001), about an angry and impulsive servant who joins Cromwell's army during the English Civil War and later becomes involved with the Diggers movement. (I loved this novel, too.) See
review
or
more info at Powell's Books
.
Nonfiction about Aaron Burr and the Kemper brothers:
American Emperor: Aaron Burr's Challenge to Jefferson's America
by David O. Stewart (2011).
More info
Fallen Founder: The Life of Aaron Burr
by Nancy Isenberg (2007).
More info
The Rogue Republic: How Would-Be Patriots Waged the Shortest Revolution in American History
by William C. Davis (2011), about the Kemper brothers.
More info
Online:
Kemper Rebellion
at the Mississippi Encyclopedia
Back to Novels of Nineteenth-Century America
Back to Directory of Book Reviews