Blood Red, Sister Rose
by Thomas Keneally
Reviewed by Margaret Donsbach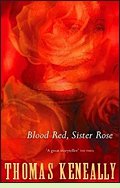 Blood Red, Sister Rose is a serious literary novel about Joan of Arc (Jehanne in her own time) which tackles the mystery of her voices head-on, neither romanticizing them nor entirely explaining them away. An illiterate peasant girl of seventeen, Jehanne insisted on being taken to France's uncrowned king, the Dauphin Charles, and leading his army against France's English occupiers so he could be crowned in Rheims, a city then firmly in English control. She said she was guided by the voices of Saints Michael, Margaret and Catherine and attributed her success to their instructions.
In the novel, Jehanne's coming of age is blighted because she doesn't menstruate. "There's something wrong with my womb," she says. Her village is Christian but steeped in pagan mysticism. "A little uphill was the big beech, the Ladies' Tree, where the Oak-King had once been sacrificed at mid-summer. Its roots had taken in his blood and so its big limbs were somehow reprobate and cannibal ..." Whether Jehanne's voices derive from her brain chemistry, divine inspiration or both is left open, but when they speak to her, "in very loud, very jagged diction, putting weight on the words, filling them to the peals of the bell," Christian and pagan ideas merge. She is, the voices say, "Jesus' brother-sister and the king's. You are the one who bleeds for the king like Jesus bleeding for you."
The style of Blood Red, Sister Rose imposes some distance. Passages of dialogue, as though in a court transcript, are labeled with the speaker's name. The scenes of warfare filling the latter part of the novel are sometimes hard to follow because of their detail and complexity; maps sandwiched into the text help provide context. Don't expect the traditional scene in which the wind miraculously shifts so the army can cross the river to Orléans. This novel brings such forceful plausibility to Jehanne's story that her voices become as credible as every other detail. (1974; 384 pages)
More about Blood Red, Sister Rose at Powell's Books or Amazon.com
Article about Joan of Arc on this website

Other novels about Joan of Arc:
The Maid by Kimberly Cutter, (2011), a novel about Joan of Arc that emphasizes her religious beliefs. More info
Personal Recollections of Joan of Arc, by the Sieur Louis de Conte by Mark Twain (1895; also published under the title Joan of Arc), a novel about Joan of Arc narrated by her page. More info
Joan of the Lilies by Maureen Peters (1969), a short biographical novel about Joan of Arc. More info

Nonfiction about Joan of Arc:
Joan: The Mysterious Life of the Heretic Who Became a Saint by Donald Spoto (2007). More info
Joan of Arc: A Military Leader by Kelly DeVries (1999). More info
Joan of Arc: A Spiritual Biography by Siobhan Nash-Marshall (1999). More info
Joan of Arc: Her Story by Régine Pernoud and Marie Véronique Clin (1998). More info

At the Movies:
Joan of Arc
, the 1999 CBS miniseries starring Leelee Sobieski as Joan.

Online:
Archive.Joan-of-Arc.org, an extensive website devoted to Joan of Arc



Back to Medieval Novels: 14th-15th Centuries

Back to Directory of Book Reviews