Blackout
by Connie Willis
Reviewed by Margaret Donsbach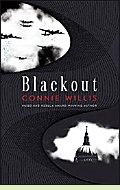 Blackout begins in April 2060. Oxford's History Research Department is frantically busy. Scholars are upset; their time-travel projects are being rescheduled with little advance notice. "My drop's been postponed till Friday," Michael complains, "which they could have told me before I went and got my American accent, so I wouldn't have to run around Oxford sounding like a damned fool for four days." Michael is studying "ordinary people who you wouldn't expect to be heroic, but who, when there's a crisis, show extraordinary bravery and self-sacrifice."
Instead of going to Pearl Harbor, he's one of several researchers dropped into England during World War II. Merope is studying child evacuees on a country estate, including two London slum children who just might be worse menaces than the Germans. Polly's project on London's public bomb shelters is complicated by the protectiveness of the Head of Research, who reminds her, "It's possible to die on assignment, and the Blitz is an exceptionally dangerous place."
All three learn more than anticipated about the heroism of ordinary people. Their drop sites are supposed to open at regular intervals so they can return to 2060 when they complete their projects, or for assistance in minor or major crises. The drops don't open, stranding the historians in the past. Even more frightening, the time-travel mechanism fails to keep them out of "divergence zones" where major historical events hang in the balance. Michael finds himself in the midst of the Dunkirk evacuation. The ordinary heroes he's studying have plenty to worry about. But Michael has another concern on top of these: What if his actions change the outcome of the war?
During the Blitz, the war's outcome truly was in doubt. The suspense in Blackout is heightened because readers don't know whether, this time, because of accidental changes introduced by the time travelers, the Germans might really win. The novel ends inconclusively, but a sequel, All Clear, is promised in Fall 2010 to complete the story. (2010; 492 pages)
More about Blackout at Powell's Books or Amazon.com

Other historical novels involving time travel or alternative history:
Doomsday Book by Connie Willis (1992), about a woman historian from the Oxford History Research Department who travels back in time to England during the Plague. More info.
Weaver by Stephen Baxter (2008) , alternative history set in a Nazi-occupied Britain during the 1940s; #4 in the Time's Tapestry series. More info
Outlander by Diana Gabaldon (1991; titled Cross Stitch in the U.K.), a romantic novel about a former army nurse who slips back in time from the post-World-War II period to 18th century Scotland during the 1745 Jacobite Rebellion; #1 in the Outlander series. Review or More info at Powell's Books

Nonfiction about life in London during the Blitz:
The First Day of the Blitz: September 7, 1940 by Peter Stansky (2007). More info
Blitz: The Story of December 29, 1940 by Margaret Gaskin (2006).
More info
The Longest Night: Voices from the London Blitz by Gavin Mortimer (2005). More info

Online:
"The Blitz" at Exploring 20th Century London
"The Blitz: Sorting the Myth from the Reality" at the BBC website



Back to Novels of World War II Europe: The Home Front

Back to Directory of Book Reviews