The Black Tower
by Louis Bayard
Reviewed by Susan Gillmor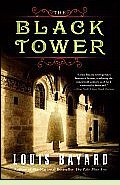 The Black Tower is a brilliant literary historical mystery set during the French Restoration of their monarchy. Napoleon has been driven into exile and the brother of the guillotined Louis XVI has recently been enthroned as Louis XVIII. Ten-year-old Louis-Charles, the Dauphin Louis XVII, died in 1795 of tuberculosis while imprisoned in the tower—or did he? The shocking 1818 murder of Chrétien Leblanc on the streets of Paris leads dynamic convict-turned-plainclothes-police-detective Eugène François Vidocq (a historical character), to posit that the erstwhile Louis XVII may still be alive.
Vidocq discovers on the body of Leblanc the name of a young medical student, Hector Carpentier, who narrates the entire story in an engaging style that draws the reader onto the streets of Paris and into the complex mystery from page one. As Vidocq tows the reluctant Carpentier into the alleyways in search of answers, the "late-winter rain ... merge[s] with the slops toiling downward through blackened gutters to produce that peculiar mud, so Parisian in its odor and provenance. If you kick in your boots too hard, you'll actually taste some, flying into your mouth like a retracted insult."
Vidocq's inquiry leads to the small town of Saint-Denis, where he discovers Charles Rapskeller, a rather timid servant to another murder victim, skillfully tending a garden. Is Charles who he claims to be? Could this simple man be at the center of the widening web of intrigue? The truth seems ever shrouded to Vidocq. "Questions, a blizzard of questions." As Vidocq follows this blizzard, his seemingly bizarre actions along the way embellish the tale. A pervasive flavor of nineteenth-century Europe is interrupted, if a reader happens to notice, only by some minor exceptions, amusing twenty-first-century anomalies.
We reach the end of The Black Tower with the name of a murderer or two, but with the central mystery "not so much … solved as funneled down" to a few possibilities. "Somewhere in that interstice lies the answer. To Louis-Charles' fate…. To everything." (2008, 368 pages)
More about The Black Tower from Powell's Books

Other mysteries set in Paris of the eighteenth and nineteenth centuries:
The Prince Lost to Time by Ann Dukthas (1995), another mystery woven around Louis-Charles, as a time-traveling Jesuit attempts to uncover the truth behind his death. More info
Murder on the Eiffel Tower by Claude Izner (2008), murder on the newly built Eiffel Tower during the 1889 Universal Exposition. More info

Nonfiction about the historical detective of The Black Tower, Eugène François Vidocq:
Memoirs by Eugène François Vidocq (1828-1929). More info
The First Detective: The Life and Revolutionary Times of Vidocq, Criminal, Spy and Private Eye by James Morton (2005). More info
Vidocq Dossier: The Story of the World's First Detective by Samuel Edwards (1977). More info

Classic fiction inspired by Eugène François Vidocq's exploits:
Les Miserables by Victor Hugo (1862), both the escaped prisoner Jean Valjean and his nemesis, Inspector Javert, are characters based on Vidocq. More info
Le Père Goriot by Honoré de Balzac (1835), the character Vautran, an escaped convict, is based on Vidocq. More info
Great Expectations by Charles Dickens (1860-1861), the character of the escaped convict Abel Magwitch was inspired by Vidocq. More info
Murders in the Rue Morgue by Edgar Allen Poe (1841), pays tribute to Vidocq's crime-fighting genius. More info

Online:
About Eugène François Vidocq at the Vidocq Society website



Back to Historical Novels: 19th Century Europe

Back to Directory of Book Reviews